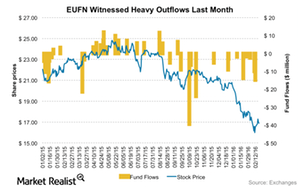 Why EUFN Has Seen Outflows of $44 Million in 2016
By Rebecca Keats

Updated
Fund flows to EUFN
ETF investors withdrew $17.5 million from the iShares MSCI Europe Financial Sector ETF (EUFN) in January. So far in 2016, Europe ETFs (FEZ) have underperformed and investors have pulled out $44 million from EUFN.
Shares of EUFN have generated negative returns of 16.9% year-to-date. Investment advisors and investors currently have a negative view on Europe. Financial markets in Europe have plunged ever since Mario Draghi, president of the European Central Bank, disappointed with lower-than-expected additions to the quantitative easing program. European banking stocks have also been suffering due to stricter regulations and negative interest rates.
Article continues below advertisement
Changes in institutional investor holdings
In accordance with the negative flows to the EUFN ETF, 13F filings of major institutional asset managers for the fourth quarter of 2015 paint a negative picture.
In 4Q15, trade activity by 13F filers showed a 46.7% decline in aggregate shares held by institutional investors and hedge funds. Among the 56 13F filers holding the stock, 22 funds reduced their exposure to EUFN while six funds sold all their holdings. However, ten funds created new positions and 14 funds increased their exposure to EUFN.
Major institutional holders like Morgan Stanley (MS), Fisher Asset Management, LPL Financials, and CLS Investments were top buyers of EUFN in the fourth quarter.
However, institutional investors like Janney Capital Management, BNY Mellon (BK), Jane Street Group, and New York Life Investment Management significantly reduced their holdings in EUFN. UBS and Royal Bank of Canada (RY) also reduced their holdings in EUFN.