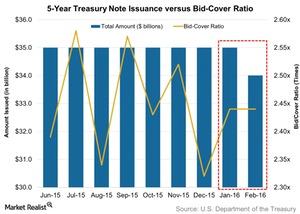 Coupon, High Yield Fell on 5-Year Treasury Notes in February
By Lynn Noah

Feb. 29 2016, Updated 3:03 p.m. ET
Five-year Treasury notes auction
The five-year Treasury maturity is important. The difference between 30-year and five-year Treasury note (or T-note) yields gives the slope of the yield curve. The U.S. Department of the Treasury holds auctions of five-year T-notes every month.
Mutual funds such as the Vanguard GNMA Fund Investor Shares (VFIIX) and the T. Rowe Price U.S. Treasury Long-Term Fund (PRULX) invest in five-year Treasury notes.
Article continues below advertisement
Key takeaways
On February 24, 2016, five-year Treasury notes worth $34 billion were auctioned. that was $1 billion lower than the previous month's auction.
The issue's coupon rate was set lower at 1.1%, the lowest in recent times, compared to 1.4% in January's auction.
The high yield for February's auction was lower at 1.2%, the lowest in recent times, compared to 1.5% in December.
The bid-to-cover ratio was flat and came in at 2.4x in February's auction. Bid-to-cover ratio depicts overall demand for the auction.
Market demand analysis
Fundamental market demand, which includes bids from direct and indirect bidders, rose from 62.2% of the accepted competitive bids in January to 77.3% in February's auction.
Indirect bidders, a category that includes foreign central banks, accounted for 67.3% of the accepted bids in February, up from 53.5% in January. Meanwhile, the percentage of direct bids rose to 10.0% in February from 8.6% in January. Direct bids include bids from domestic money managers such as Invesco (IVZ) and Wells Fargo (WFC).
Due to a rise in market demand, primary dealers such as Credit Suisse (CS), Morgan Stanley (MS), and others, had to take down a smaller quantum of the auction. The dealer's takedown was 22.7% of accepted competitive bids, a decline of 37.8% in January's auction.
Yield analysis
The yield on five-year Treasury notes in the secondary market fell by 2 basis points after the auction from the previous day. It ended February 24, 2016, at 1.21% compared to 1.23% on February 23.