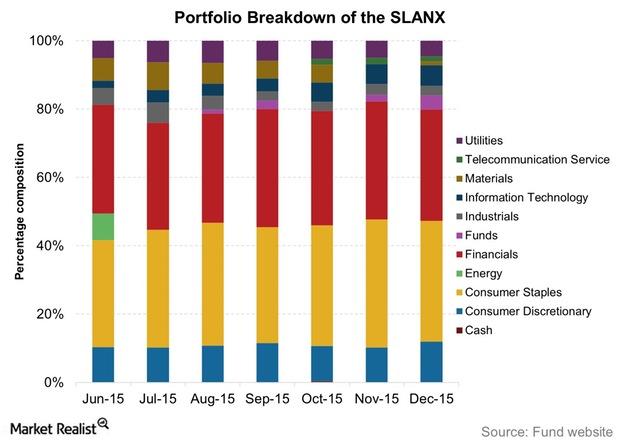 SLANX: The Fund with a Financials and Consumer Staples Core
By David Ashworth

Jan. 27 2016, Published 6:39 p.m. ET
Deutsche Latin America Equity Fund
The Deutsche Latin America Equity Fund – Class A (SLANX) seeks long-term growth of capital by investing "in Latin American common stocks and other equities (equities that are traded mainly on Latin American markets, issued or guaranteed by a Latin American government or issued by a company organized under the laws of a Latin American country or any company with more than half of its business in Latin America)." The asset manager defines Latin America as "Mexico, Central America, South America and the Spanish-speaking islands of the Caribbean."
The fund literature states that fund managers focus on three themes while constructing the portfolio.
Bottom-up research: Looking for companies with strong fundamentals.
Growth-orientation: Looking for growth-oriented companies.
Analysis of regional themes: Looking for stocks that may benefit from social, economic, industrial, and demographic changes.
Article continues below advertisement
As of December 2015, the fund's assets were invested across 46 holdings and it was managing assets worth $198.1 million. As of November, its equity holdings included Empresa Nacional de Electricidad (EOC), Cencosud (CNCO), CorpBanca (BCA), Embotelladora Andina (AKO.B), and BBVA Banco Francés (BFR), which together comprised 8.3% of the fund's portfolio.
Historical portfolios
For this analysis, we will be considering holdings as of November 2015, as that is the latest available sectoral breakdown. The post-November holdings reflect valuation-driven changes to the portfolio, not the actual holdings.
Financials and consumer staples form the core of the fund. Combined, these two sectors form 65% of the fund's assets. Consumer discretionary is the only other sector to which more than 10% of the portfolio has been allocated. Managers exited the energy sector after 2Q15.
On a year-over-year basis, financials have seen their share of decline. Exposure to materials has also been toned down. On the other hand, consumer staples and information technology stocks have seen their shares increase.
There's a common trend that can be seen for industrials, materials, and utilities. Although exposure to these sectors was increased during the year, it was decreased as the year progressed. At the stock level, a lot of churn is visible. Fund managers experimented with several securities during 2015.
Has this shifting stance been of use to SLANX in 2015? We'll discuss that in the next article.