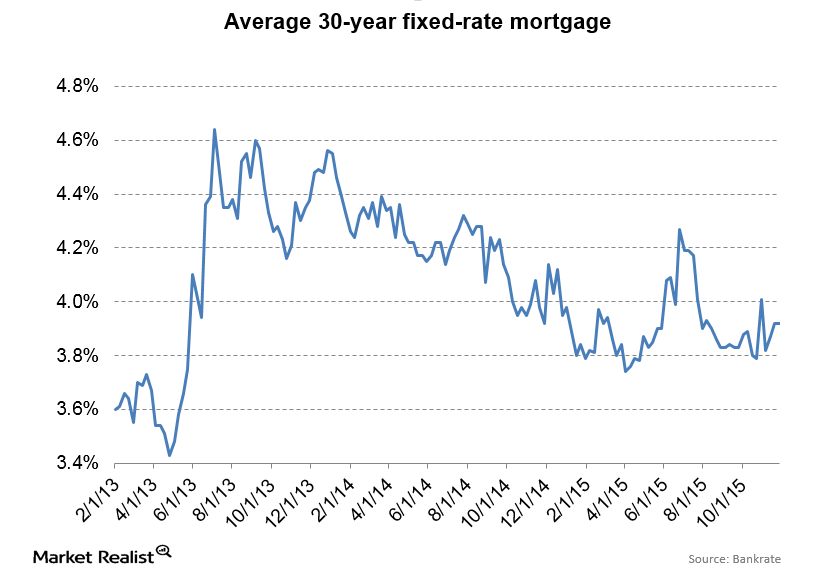 Mortgage Rates: Unchanged in a Volatile Week for Stocks and Bonds
By Brent Nyitray, CFA, MBA

Jan. 26 2016, Updated 12:06 p.m. ET
Critical input for the housing market
Mortgage rates are the lifeblood of the housing market. The Fed's plan to help the housing market started when it pushed rates lower to allow people to refinance. The central bank hoped that lowering mortgage rates would also support home prices.
Quantitative easing was a key part of that effort. The Fed is reluctant to sell its mortgage-backed securities holdings for fear of raising mortgage rates too much.
Article continues below advertisement
Mortgage rates unchanged amid the volatility
Lately, mortgage rates have tended to fade big moves in the bond market. When rates fall well below 1.9% on the ten-year bond, mortgage rates fall slightly. Similarly, when rates rise to 2.3%, mortgage rates tend to rise slightly.
Mortgage rates have largely ignored the moves in the bond markets. In the week ended January 22, 2016, they were unchanged at 3.7%. The ten-year bond yield rose from 2.03% to 2.05%. Investors interested in making directional bets on interest rates can look at the iShares 20+ Year Treasury Bond ETF (TLT).
Impact on mortgage REITs
At this point, mortgage bankers such as Nationstar Mortgage Holdings (NSM) and Wells Fargo (WFC) are looking forward to 2016. The Mortgage Bankers Association has put out its initial estimates for 2016. It's predicting improvement in the purchase business but a continuing fall in the refinance business as rates rise.
The fall in prepayment speeds would be good news for mortgage REITs such as Annaly Capital Management (NLY) and American Capital Agency (AGNC). They're highly-leveraged agency REITs with a lot of prepayment exposure. Non-agency REITs such as Redwood Trust (RWT) tend to swap the interest rate risk for credit risk.
Investors interested in trading in the mortgage REIT sector through an ETF can look at the iShares Mortgage Real Estate Capped ETF (REM).