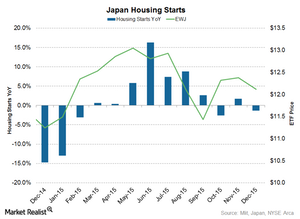 The Japanese Housing Sector Sent a Mixed Signal in December
Housing starts fell 1.3% in December
Housing indexes form an important leading indicator index. When the housing sector stood strong, it reflects a growing economy. According to the Ministry of Land, Infrastructure and Transport, Japanese housing starts fell 1.3% in December year-over-year as compared to a rise of 1.7% in November 2015. That's below the consensus estimate of a rise of 0.5%.
As a result, the Vanguard FTSE Developed Markets ETF (VEA) and the iShares MSCI Japan (EWJ) fell 8.9% and 8.8%, respectively, over the past month as of January 28. Even the Japanese ADRs[1. American depositary receipts] Honda Motor Co. (HMC) and Canon Inc. (CAJ) fell 15.6% and 9.3%, respectively, over the same period.
Article continues below advertisement
Weakness in housing starts
Not all housing is self-financed. Actually, most individuals borrow funds from banks to finance home buying. Therefore, the weakness in housing starts is likely to impact financial institutions and banks negatively. As a result, Mitsubishi UFJ Financial Group (MTU), Mizuho Financial Group (MFG), Sumitomo Mitsui Financial Group (SMFG), and SoftBank Group (SFTBY) fell 17.7%, 13.4%, 11.8%, and 15.9%, respectively, over the past month as of January 28.
The broad-based fall in housing starts was seen in December. Other than detached houses, all the others reported a fall in December.
Construction orders rose 14.8% in December 2015
Unlike housing starts, construction orders rose 14.8% in December as compared to a rise of 5.7% in the previous month. The rise was mainly contributed to by a 39.0% rise in the private sector. On the other hand, overseas orders and the public sector reported falls by 23.3% and 2.4%, respectively, in December.
The housing segment is quite sensitive to interest rates. With the extended stimulus by the Bank of Japan, the housing sector may gain momentum and grow further.
While the housing sector sends a mixed signal in Japan, let's see how foreign trade in the country is trending in the next article.