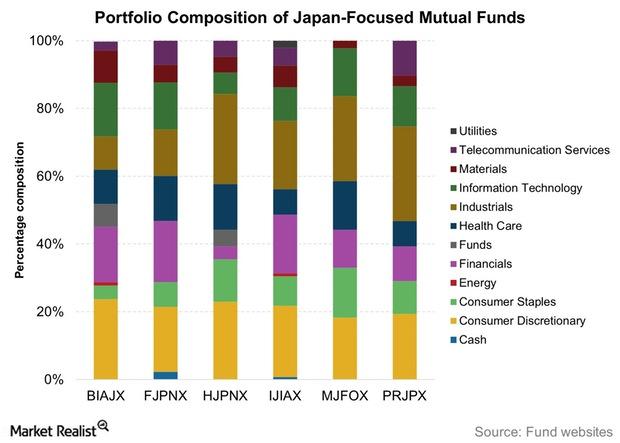 Can Japan-Focused Mutual Funds Entice Investors in 2016?
By David Ashworth

Nov. 20 2020, Updated 12:26 p.m. ET
Japan-focused mutual funds
In this series, we have reviewed six Japan-focused mutual funds (CNJFX) in terms of their sectoral changes over 2015 and the possible reasons for their performance. However, how does the overall portfolio position of these funds look? We've used the latest available complete portfolios for preparing the graph below.
Article continues below advertisement
Portfolio composition
The graph above provides you a bird's-eye view of what you can expect if you're investing in any of these six Japan-focused mutual funds (NTJAX).
Consumer discretionary (BIAJX) (FJPNX) and industrials (MJFOX) (HJPNX) are the top choices for the largest sectoral allocation among these Japan-focused mutual funds. Energy stocks are out of favor, with only two (BIAJX) (IJIAX) providing exposure to the sector. Out of the two, only BIAJX has invested in the sector by choice. IJIAX is a passive fund and cannot choose its securities freely. As with energy, utilities are also out of favor, with only IJIAX investing in the sector.
There is a big difference between how fund managers think about all other sectors except the aforementioned ones. While BIAJX is the least defensively positioned, given its exposure to consumer staples and healthcare combined, MJFOX is the most defensively positioned. Although HJPNX has less than 5% of its portfolio invested in financials, FJPNX has invested 18%. The fund management of HJPNX is not big on information technology stocks, while BIAJX, FJPNX, and MJFOX have quite a lot of faith in the sector.
Article continues below advertisement
However, investors should remember that in active management, stock selection remains the key. For instance, MJFOX and PRJPX have vastly different sectoral composition except industrials and consumer discretionary. However, they were the top two performers, in that order, for 2015, primarily due to astute stock selection. It is important to look at the performance of the fund across market cycles in order to zero down to a fund that suits your needs in terms of investment horizon and style.
For some investors, a passive fund like IJIAX may be the right fit. However, more adventurous investors may find a small portfolio that takes active bets such as HJPNX more suited to their liking.
What does this mean for investors?
Even with all sorts of macroeconomic problems, Japan-focused mutual funds were superlative performers among developed markets in 2015. One of the reasons for that was a surge in corporate profits. This presents a bit of a moral dilemma, as these profits are coming at the expense of scant wage growth for employees. However, this has worked for corporates and investors.
Suppressed wages should negatively impact consumer discretionary stocks, hurting industries like auto and luxury goods. Ford Motor Co. (F) has already decided to pull out of Japan by the end of 2016 due to a lack of profits. General Motors (GM) is also struggling in Japan.
Monetary stimulus (MFG) cannot compensate citizens for the lack of a substantial wage rise. However, a rise in capital spending may help companies like Fanuc Corporation (FANUY) and Fuji Heavy Industries Ltd. (FUJHY).
It remains to be seen whether Abenomics 2.0 works for Japan. The original plan has not yet shown any substantial impact on the economy. For now, it seems, Japan just has more arrows in its quiver, but none have hit the target. For mutual fund investors, however, Japan could remain compelling in 2016 as well.
For more analysis on mutual funds, please visit Market Realist's mutual funds page.