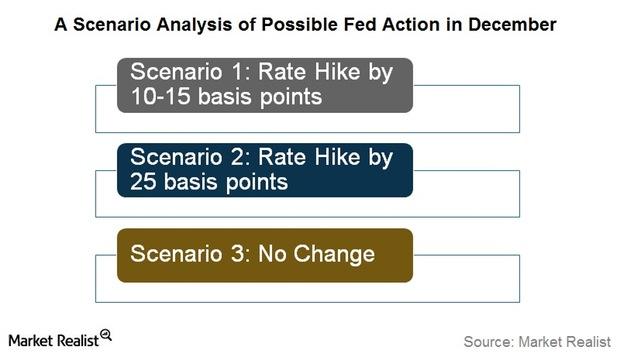 The December FOMC Meeting: 3 Possible Scenarios
By David Ashworth

Dec. 11 2015, Published 2:24 p.m. ET
A scenario analysis
The FOMC meets on December 15–16 to decide whether a rate hike takes place in 2015 or not. Though no decision is set in stone, policymakers could take one of the following three actions, as the table below shows. Let's look at each one in detail.
Article continues below advertisement
The Fed hikes rates by 10-15 basis points
Robust consumer spending and strong non-farm payroll data, along with pressure for "liftoff" in 2015 to save credibility, may lead the Fed to raise the federal funds rate by 10–15 basis points. At this juncture, it seems that several market participants are expecting the rate hike to be in this range.
The impact of this announcement may not be much, as the short end of the yield curve has already seen some selloff in anticipation. Participants and portfolio managers who aren't anticipating a rate hike could be negatively affected because no one can rule out some rise at this maturity.
The Fed hikes rates by 25 basis points
This would be an aggressive move. Though there are a few participants who expect a hike by this quantum, the US economy doesn't look to be in good enough shape to be able to smoothly absorb this hike, given that inflation remains low and geopolitical risks persist.
But if the Fed decides to hike by 25 basis points, it will elicit a strong reaction across financial markets. Financials and insurers like Charles Schwab (SCHW), MetLife (MET), and Progressive (PGR) could react strongly, along with fixed income securities and mutual funds (WHOSX) (ABNDX). You should be wary of liquidity concerns in bond markets if you want to exit. Otherwise you could end up paying too much for exiting in a hurry.
The Fed doesn't move
The third scenario is that the Fed doesn't tinker with the rate at all. This is why the monetary policy announcement could be pretty anticlimactic. Find out more in the next part of this series.