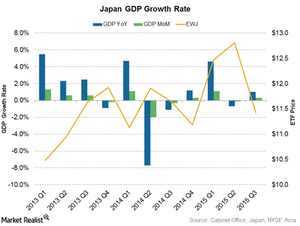 Capital Spending May Help Japan's Economy to Grow at 1.7% in 2016
By Lara Sheldon

Dec. 4 2020, Updated 10:53 a.m. ET
Business investment boosted economic growth
In 3Q15, Japan's (DXJ) (EWJ) economy grew by 1.0% annualized with an increase in business investments. For the September quarter, the Japanese economy has advanced 0.3% as against a decline of 0.1% in the previous quarter. The increase was mainly attributed to an increase in capital expenditure and a less-than-expected decline in inventories in the third quarter.
With an increase in business confidence to 12.0, capital spending is also expected to jump 10.8% in the in the fiscal year that ends in March 2016.
Article continues below advertisement
Yen appreciation impacts foreign trade
The Japanese yen (FXY) has appreciated 1.3% against the US dollar year-to-date (or YTD). The strengthening of the yen is affecting the export orders. Japan recorded a 379.7 billion yen trade deficit in November 2015. Exports fell 3.3% mainly due to lower shipments of machinery while the decline in purchases of mineral fuels led imports to decrease 10.2%.
Manufacturing picks up pace in Japan
Industrial production in Japan (EWJ) for October grew 1.4% month-over-month as compared to an increase of 1.1% in September 2015. The monthly increase in industrial output is attributed to the increase in shipment by 2.1%. Conversely, inventory and the inventory ratio fell by 1.9% and 3.0%, respectively, in October 2015.
Even the capacity utilization rate increased 1.3% monthly in October as compared to a 1.5% rise in September. Stocks such as Sony (SNE), Mitsubishi UFJ Financial Group (MTU), and Honda Motor (HMC) have risen 16.7%, 9.6%, and 6.2%, respectively, on December 21.
Article continues below advertisement
The industrial output is expected to increase further with a rise in new export orders and production levels. The new products launched by the Japanese manufacturers are getting attention from domestic as well as foreign customers. Also, the advertisement campaigns are providing a necessary response as required by the new launches.
With a better report on production, the jobless rate declined 3.1% in October 2015, down from 3.4% in the previous two months. Also, wages saw a jump in Japan by 0.70% in October 2015. Consumer prices in Japan rose 0.3% on an annual basis in October 2015 with an increase in food cost while prices of fuel fell at a slower pace.
Also, consumer confidence in Japan rose to 42.6 in November from 41.5 in October 2015 and was above the market consensus.
After sliding for two consecutive quarters, Japan's economy has advanced 0.3% in 3Q15. This comes as a relief to the ailing Japanese economy.
At its December 2015 meeting, the Bank of Japan kept its pledge to increase the monetary base at an annual pace of about 80 trillion yen. Prime Minister Shinzo Abe and the central bank have infused monetary and fiscal stimulus to improve the business climate and economic condition. This may help the Japanese economy to grow at the IMF's (International Monetary Fund) projection of 1.7% in 2016.
We'll analyze the performance of emerging economies in the next article.