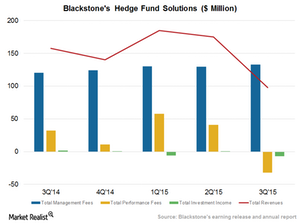 Blackstone Hedge Funds Outperform Relatively, Expand Assets
Industry-wide losses
Hedge funds have performed dismally during the third quarter on lower volatility and geopolitical risks driving an equity rout. Alternative managers saw their valuations fall across asset classes and strategies. Funds investing in corporate bonds performed well due to higher yields, but funds focusing on equities saw a fall in their value. In 3Q15, Blackstone (BX) reported a 38% fall in its hedge fund solutions segment's total revenues to $98 million as compared to $158 million in the prior year quarter.
In the first nine months of 2015, the division recorded revenues of $458 million, a fall of 11% on a year-over-year basis, and economic income of $221 million as compared to $281 million in the prior year period.
Blackstone's hedge fund solution is composed primarily of Blackstone Alternative Asset Management (or BAAM), that was organized in 1990. It manages a range of commingled funds of hedge funds and customized vehicles.
Article continues below advertisement
New strategies for higher returns
In the first nine months of 2015, the division generated a 3.6% return, lower than the historical rates but outperforming major players and the overall market. Blackstone has taken a cautious approach towards interest rates—as interest rates are expected to rise—and has deployed higher funds in floating rate for lower volatility risk. The company will continue to invest in the lower volatility approach that generated higher returns over the past few quarters.
Total assets under management for BAAM's individual investor solutions platform reached $5.8 billion, up from $2.7 billion as of July 1, 2014. The company raised $655 million for BAAM's third seeding vehicle.
Blackstone has attracted a sizable amount of funds in customized and commingled strategies. The company attracted $2.2 billion in fee-earning gross inflows during the quarter, and $9.5 billion during the last 12 months. Blackstone's operating margin was 48% in the last fiscal year. Let's compare this to revenues for Blackstone's peers:
Together, these companies form ~1.4% of the Financial Select Sector SPDR Fund (XLF).