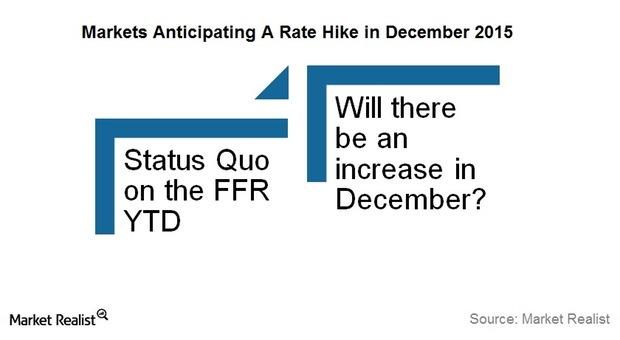 Why Are Market Participants Concerned about December 2015?
By David Ashworth

Dec. 4 2020, Updated 10:42 a.m. ET
Rate hike worries?
In the previous article, we looked at what the FOMC's (Federal Open Market Committee) October statement said regarding the domestic and international economic environment. As far as a rate hike is concerned, the FOMC kept the target range of the federal funds rate unchanged at 0%–0.25%. But what did it say that has worried market participants since the statement was released?
Article continues below advertisement
"At its next meeting…"
Since its October meeting, you may have read that the tone of the FOMC was hawkish. Also, it may have hinted at a rate hike in the next meeting. Why is this so?
In its September statement, the FOMC stated, "In determining how long to maintain this target range, the Committee will assess progress…" Meanwhile, in the October statement, the same segment read, "In determining whether it will be appropriate to raise the target range at its next meeting, the Committee will assess progress…"
The addition of "at its next meeting" in the FOMC's October statement has led market participants to believe that a rate hike may be effected in its December meeting. Is this small addition so significant?
Possibly
Monetary policy is a continuous process, and it is not bound by timelines like the end of a year or any other reporting period. So, the usage of this phrase could very well hint at a possible rate hike in December. Otherwise, there may not have been any need to include this phrase if policymakers were sure about not tinkering with the rate in the next meeting.
A change in the language used in the statement is closely scrutinized, and this has been the case with the addition of the aforementioned segment.
For bond investors
A rate hike is a significant event for bond market investors. While a rate hike directly impacts short-term maturity securities, long-term securities also react to it. So, investors in mutual funds like the MFS Government Securities Fund (MFGSX) and the Prudential Government Income Fund (PGVAX) should closely watch economic indicators coming out until the meeting to assess whether a rate hike could be effected.
Worries regarding a rise in interest rates have brought companies like PNC Financial Services Group (PNC), Mead Johnson Nutrition Company (MJN), and Capital One Financial Corporation (COF) to the corporate bond market in the past two weeks.
In the next article, let's see how markets have reacted since the October 2015 statement was released.