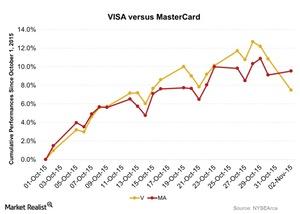 Visa on Its Way to Acquire Its European Twin, Visa Europe
Visa ended up at the bottom
Stocks at the bottom of the SPDR S&P 500 ETF (SPY) on November 2, 2015, were Visa (V), Kinder Morgan (KMI), and Chipotle Mexican Grill (CMG). These stocks yielded -3.04%, -2.7%, and -2.5%, respectively, on the day.
Visa (V) dropped on the day after the company reported its 3Q15 earnings, which missed analysts' expectations. The company's earnings per share (or EPS) came in at $0.62 per share, with revenues of $3.57 billion. Visa's EPS had missed the estimates while its revenue was in line with 3Q14 EPS of $0.43 per share, with revenues of $3.23 billion.
Article continues below advertisement
On Monday, November 2, Visa confirmed its plan to acquire its overseas counterpart Visa Europe for $23.4 billion in cash and stock. The deal is expected to be completed in mid-2016. This acquisition should add 500 million cardholders to Visa. Following this, Standard & Poor's assigned the company an A+ long-term rating and a short-term rating of A-1 with a "stable" outlook.
The above chart compares the stock price movement of Visa (V) and its competitor Mastercard (MA), which gained 0.4% on November 2.
Other key stocks
Restaurant chain Chipotle Mexican Grill (CMG) fell on November 2 after the company announced on Sunday, November 1, that the restaurant reported an outbreak of E. Coli. The company closed all 43 of its restaurants in Seattle, Washington, and Portland, Oregon.
Hewlett-Packard (HPQ) rose following the completion of the separation of Hewlett-Packard Enterprise (HPE) from HP, making its stock market debut as an enterprise technology leader. HPQ celebrated its launch as a newly listed public company belonging to the Fortune 100.
In the final part of this series, let's take a look at how the UK stock market fared on November 2.