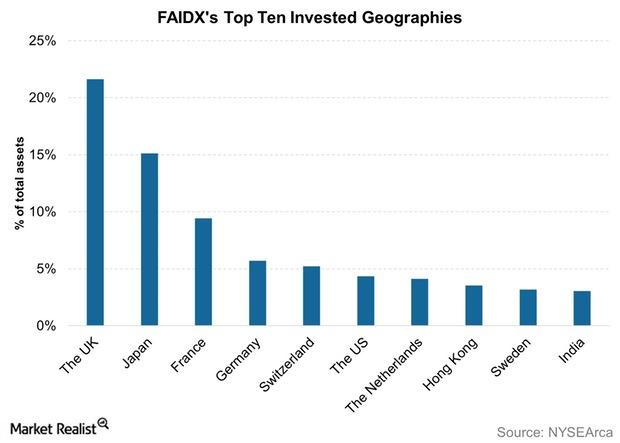 The Fidelity Advisor International Discovery Fund – Class A (FAIDX)
By David Ashworth

Nov. 17 2015, Updated 4:49 p.m. ET
The Fidelity Advisor International Discovery Fund
According to the fund, the Fidelity Advisor International Discovery Fund – Class A (FAIDX) aims to attain capital appreciation by "normally investing primarily in non-U.S. securities."
The fund has a long track record and was launched in December 1986. As of the end of October 2015, it had $10.97 billion in assets under management. As of the end of September 2015, it had a total of 220 holdings in its portfolio.
Article continues below advertisement
Sectoral and geographic breakdown
According to the latest available sectoral breakdown as of September 2015, 24.2% of FAIDX's holdings are invested in financials. Stocks from the consumer discretionary sector form 16.8% of the fund's assets, followed by the healthcare sector, which comprises 13.1% of the portfolio. Consumer staples and industrials, in that order, complete the top five sectors invested in by the fund.
As of September 2015, the fund's geographic exposure shows that 21.6% of its money is invested into stocks from the United Kingdom. At 15.1%, Japan is the only other country with stocks weighted in double digits. All other countries form less than 10% each of the fund's portfolio. Stocks of companies from France form 9.4% of the fund's net assets, followed by Germany, which forms 5.7%. Switzerland rounds off the top five, making up 5.2% of the portfolio. The fund is also invested in US equities, which comprise 4.3% of the fund's assets.
Swiss pharma company Novartis AG (NVS) is FAIDX's largest holding, forming 1.9% of the fund's September 2015 assets. France's energy giant TOTAL S.A. (TOT) is the largest holding from the country while Unilever N.V. (UN) is the largest holding from the Netherlands. Imperial Tobacco Group PLC (ITYBY) is the largest holding among stocks from the UK while Japan's largest representation is by Mitsubishi UFJ Financial Group, Inc. (MTU).
Fees and minimums
If you are interested in investing in the Fidelity Advisor International Discovery Fund – Class A (FAIDX), it would require a minimum initial investment of $2,500. There is no minimum for additional investments. For Class A shares, the fund house can levy a maximum sales charge of 5.75% as a percentage of the offered price. It charges a short-term trading fee of 1.0% if investments are redeemed within 30 days. The expense ratio of the fund is 1.26%.
Let's look at the Fidelity Diversified International Fund (FDIVX) in the next article.