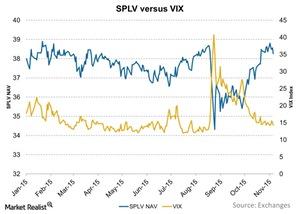 A Structural Analysis of SPLV
By Ivan Kading

Nov. 9 2015, Published 5:34 p.m. ET
Low volatility
The PowerShares S&P 500 Low Volatility ETF (SPLV) seeks to replicate the performance result of the S&P 500 Low Volatility Index. The index provider chooses 100 stocks from the S&P 500 (SPY) that have exhibited low volatility in their price fluctuations over the past 12 months.
Choosing stocks with minimum volatility reduces the portfolio's downside risk while it retains the potential to experience gains during rising markets. Volatility is a statistical measurement of the magnitude of up and down asset price fluctuations, the rises or falls in a stock's price, over time.
Article continues below advertisement
Consistent performance
The above chart compares the year-to-date (or YTD) performance of SPLV with the CBOE Volatility Index (VIX). VIX is an index that measures the overall implied volatility of SPY.
VIX helps investors to estimate the future movement or volatility of a particular stock or index as a whole. The graph clearly depicts that SPLV is in an inverse relation with VIX.
As SPLV's portfolio mainly consists of stocks with low volatility, significant changes in the volatility index of the market have little effect on it. SPLV has a given a total annual return of 5.7%, beating SPY marginally by 0.3%.
Top holdings
The top five holdings of SPLV are Plum Creek Timber (PCL), Paychex (PAYX), PepsiCo (PEP), ACE (ACE), and Republic Services (RSG). The top five holdings represent 5.9% of SPLV's total portfolio. SPLV manages a total portfolio of 100 stocks. The index is rebalanced every quarter in March, June, September, and December.