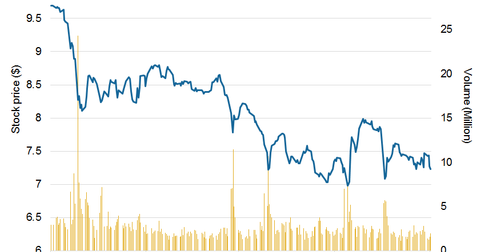 Prospect Capital Yielded 14%, Maintained Good Growth in 1Q16
By Robert Karr

Updated
Net asset value falls
Prospect Capital (PSEC) stock is down 24% over the past year on falling yields in middle-market debt investments. The company reported that its September quarter earnings beat Wall Street analysts' net income estimates of $0.25 with a posted net income of $0.26.
The company's market capitalization currently stands at $2.6 billion, and its net asset value fell from $10.31 per share on June 30, 2015, to $10.17 per share on September 30, 2015.
Prospect Capital's net investment income fell to $91.2 million in fiscal 1Q16 (September end 2015) as compared to $94.5 million in fiscal 1Q15. However, net investment income was higher when compared with $89.5 million in the previous quarter.
Prospect reported revenues of $200.3 million in fiscal 1Q16, down by 8% on a year-over-year basis compared to analysts' expectations of $197.0 million.
Article continues below advertisement
Financial services
Prospect Capital is a financial services company that lends to and invests in middle-market, privately held companies. The company acts as a closed-end fund and is regulated as a business development company.
Prospect provides capital to companies in the form of senior and subordinated debt and equity. This capital is then used for acquisitions, divestitures, growth, development, and recapitalizations.
Prospect works with financial sponsors and management teams to identify investments with historical cash flows, asset collateral, or contracted pro forma cash flows. Prospect Capital investments are made based on one of nine origination strategies:
Lending in private equity sponsored transactions
Lending directly to companies not owned by private equity firms
Control investments in corporate operating companies
Control investments in financial companies
Investments in structured credit
Real estate investments
Investments in syndicated debt
Aircraft leasing
Online lending
Other investment management players
Here's how some of Prospect Capital's peers in investment management fared with their respective quarterly earnings:
Together, these companies form 5.9% of the PowerShares Global Listed Private Equity ETF (PSP).
Here are the two major questions we'll be investigating in this series:
Can Prospect Capital Maintain or Grow its net asset value in the upcoming quarters?
What is the upside potential for high-yielding stock?