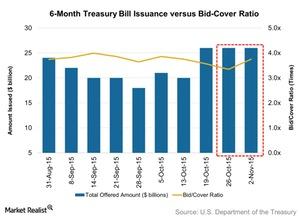 Indirect Bidders Flock to the 26-Week Treasury Bills Auction
By Lynn Noah

Nov. 9 2015, Updated 1:55 p.m. ET
26-week Treasury bills auction
The US Department of the Treasury held the weekly 26-week Treasury bills, or T-bills, auction on November 2. T-bills worth $26 billion were on offer, the same amount offered in the previous week.
The bid-to-cover ratio measures the overall demand for the auction. The higher the ratio, the higher the demand, and vice versa. The bid-to-cover ratio rose to 3.8x last week, compared with 3.3x in the previous week. In 2015 so far, the bid-to-cover ratio has averaged 4.0x.
Article continues below advertisement
Yield analysis
Treasury bills do not pay a coupon. They are offered at a discount to face value and are redeemable at par on maturity. The high discount rate for the November 2 auction came in at 0.28%, higher than 0.16% in the previous week.
Market demand surged
Fundamental market demand surged last week from 32.5% to 65.4% due to a rise in the percentage share of indirect bidders. Indirect bids jumped from 28.1% to 62.8% week-over-week. Indirect bidders include foreign central banks.
The percentage of direct bids was down from 4.4% to 2.5% week-over-week. Direct bids include domestic money managers such as Invesco (IVZ).
Consequently, the share of primary dealer bids dived from 67.5% to 34.7% that week. A fall in the percentage of primary dealer bids is a sign of strong fundamental market demand. Primary dealers are a group of 22 authorized broker-dealers. They are obligated to bid at Treasury auctions and take up excess supply. They include companies such as Goldman, Sachs and Co. (GS) and Citigroup Global Markets (C).