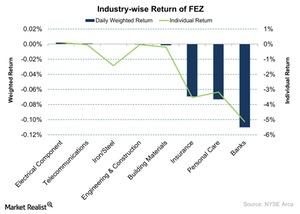 How Geopolitical Issues Are Affecting the Market: FEZ Falls 1.0%
FEZ fell 1.0% on November 13
On Friday, November 13, 2015, most global markets closed on a negative note. There were massive sell-offs in the commodity and equity spaces. Crude oil prices continued their tumble on account of huge inventories, while investors remained jittery on account of heightening global uncertainty.
The sell-off was strengthened by geopolitical issues related to the terror attack in Paris. France is one of the Eurozone's major economies. Continued geopolitical disturbance in the region can affect growth in both France and the Eurozone at large.
The SPDR EURO STOXX 50 ETF (FEZ), which tracks the performances of European equities, fell 1.0% on November 13 and closed at $35.19.
Article continues below advertisement
Banking industry underperformed the ETF
The above graph shows FEZ's performance by industry on November 13, 2015. The top two industries that contributed marginally positive returns to FEZ's performance were the electrical and telecommunication industries. The bottom three industries were banks, personal care, and insurance.
The electrical component industry provided a weighted return of 0.001% and an individual return of 0.1%. The banking industry provided the highest negative-weighted return of -0.11% as well as an individual return of -5.1%. These performances dragged FEZ down, and it fell 1.0% in a single day.
Banking stocks Banco Santander (SAN), ING Groep (ING), and Deutsche Bank (DB) provided individual returns of -0.59%, -1.4%, and -0.18%, respectively.
The weighted return is calculated by multiplying the weight of the industry in the ETF with the individual return of the industry. The individual return is the stock's own return.
Key stocks that drove FEZ's performance
Out of the 50 constituents of FEZ, only seven stocks gave positive returns on November 13, 2015. The top three stocks were Enel (ENLAY), Volkswagen (VLKAY), and Banco Bilbao Vizcaya Argentaria (BBVA). The reasons for these stocks' respective performances were as follows:
Enel announced its third quarter results. Its revenue and EBITDA (earnings before interest, tax, depreciation, and amortization) rose 15.8% and 13.1%, respectively, due to strong growth in the Latin America and renewable energy segments. This news drove the stock up, and it contributed a weighted return of 0.015%.
After the emission scandal issue, Volkswagen held a meeting with its management, the workers' union, and a direct representative on November 11

, 2015

. It decided to sell assets off rather than to lay off employees. This news drove the stock, and it contributed a weighted return of 0.017%.
Banco Bilbao Vizcaya Argentaria contributed a weighted return of 0.010%.
In the next part of the series, we'll analyze how these stocks and the ETF performed with respect to their moving averages and the relative strength index.