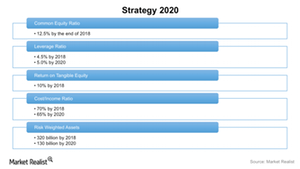 What is Deutsche Bank's Strategy 2020?
By Rebecca Keats

Nov. 2 2015, Updated 10:45 p.m. ET
Strategy 2020 financial targets
German-based Deutsche Bank (DB) has announced Strategy 2020, a grand plan to overhaul its operations. In this part of the series, we'll look at what targets Deutsche Bank has set for 2020 and how it plans to achieve them. John Cryan, co-chief executive officer of Deutsche Bank, has been under pressure to lower expenses, boost capital strength, and drive value for shareholders since he took over from his predecessor.
As part of its plan to cut costs, the company has outlined the following financial targets:
Article continues below advertisement
common equity tier 1 ratio of at least 12.5% from the end of 2018
leverage ratio of at least 4.5% at the end of 2018 and at least 5.0% at the end of 2020
return on tangible equity greater than 10% by 2018
adjusted costs (total non-interest expenses excluding restructuring and severance, litigation, impairment of goodwill and intangibles, and policyholder benefits and claims) of less than 0 billion euros by 2018
cost-to-income ratio of approximately 70% in 2018 and approximately 65% in 2020 from 180% currently – By comparison, its European rivals (EUFN) (XLF) Barclays (BCS), Credit Suisse (CS), and UBS, which are also cutting costs and devising new strategies, currently have cost-to-income ratios of 64%–77%.
risk-weighted of approximately 320 billion euros at the end of 2018 and approximately 310 billion euros at the end of 2020.
How does Deutsche Bank plan to achieve these targets?
In order to achieve these goals, Deutsche Bank has planned to undertake some strict actions. It plans to cut the number of jobs by 35,000 over the next two years. This will include cutting 9,000 full-time employees, 20,000 additional roles due to the disposal of assets, and 6,000 external contractors. It will also shut down operations in ten countries: Argentina, Chile, Mexico, Peru, Uruguay, Denmark, Finland, Norway, Malta, and New Zealand.
The bank also plans to cut its investment banking clients by 50% in high operating risk countries, claiming that 80% of the revenues come from only 30% of clients. It will also simplify its legal structure, eliminating approximately 90 legal entities.