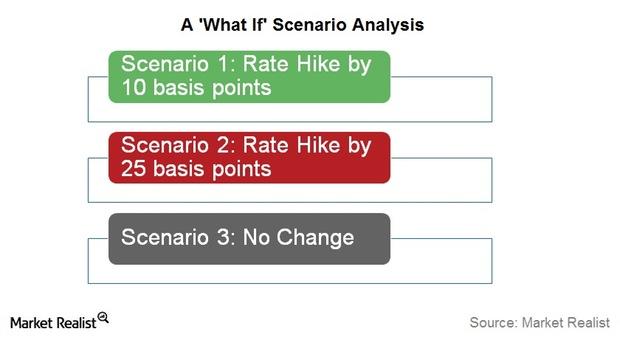 A Scenario Analysis: What if the Federal Reserve Were To…
Policy meeting
Policymakers from the Federal Reserve will meet a little over a month from now. Although market participants are still divided about a rate hike in 2015, the number of those who believe a liftoff is in the offing has increased since the October 2015 policy statement. Let's do a scenario analysis of possible Fed actions in the upcoming meeting in December.
Article continues below advertisement
The Fed hikes rates by 10 basis points
Strong consumer spending and robust job additions, along with pressure to lift off in 2015, could lead the Fed to raise the federal funds rate by a small margin of around 10 basis points. One basis point is one-hundredth of a percentage point, so 1.0% = 100 basis points.
The short end of the yield curve may not rise much, even after the hike in short-term rates, because this maturity bucket has already seen some sell-off in anticipation of a rate hike. However, participants and portfolio managers who are not anticipating a rate hike could be negatively impacted in the event of a hike, because some rise in this maturity bucket cannot be ruled out.
The Fed hikes rates by 25 basis points
As a second option in our scenario analysis, let's assume that policymakers would not only effect liftoff, they would do so in a strong fashion by raising the target range of the federal funds rate by 25 basis points.
This would be a bold and aggressive move on the part of the Fed and could elicit a strong reaction in the financial markets. Financials and insurers like Charles Schwab (SCHW), MetLife, Inc. (MET), and Progressive Corp. (PGR) could react strongly, along with fixed income securities and instruments (WHOSX) (ABNDX).
The Fed stands pat
The third option in our scenario analysis is that the Fed does not tinker with the federal funds rate at all. This could help bonds—especially Treasuries—reverse some of their losses and perhaps even post gains over the current levels after the announcement. Among equities, financials could stand to lose, given the heightened rate hike expectations and a run-up in prices, while defensives could make a comeback.
The Treasuries yield curve would be directly impacted by any tinkering with interest rates. In the next article, let's take a quick look at the impact on the yield curve.