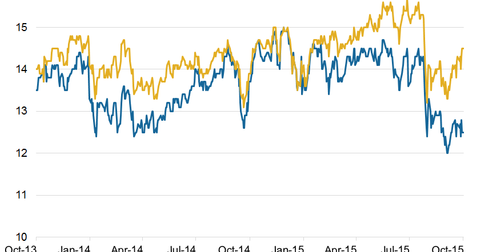 State Street Trades at a Discount on Servicing and Management
By Robert Karr

Updated
Valuations
State Street (STT) has historically traded at a discount compared to its peers. Currently, State Street is trading at a one-year forward price-to-earnings ratio of 12.5x compared to the industry average of 14.5x.
The company's stock fell by 3% on its 3Q15 earnings announcement. The market expected operating earnings per share of $1.24, whereas the company reported $1.16 on lower interest revenues, falling valuations of its portfolio, and difficult global markets.
State Street is focusing on expense management and has initiated a program to result in savings of $500 million over the next four to five years. This will help the company to maintain margins in the midst of increasing competition for its servicing and ETF offerings.
The company is facing stiff competition in the ETFs space from existing and new players. It's relying on higher revenues from its asset servicing business, which has suffered due to the slowing global economy.
State Street's peers are trading at the following price-to-earnings ratios:
Together, these companies form 1.7% of the SPDR S&P 500 ETF (SPY).
Article continues below advertisement
Outlook
State Street's operations have been impacted severely by slowing Chinese economy combined with an environment of low interest rates. The company's net interest margins have fallen to 95 basis points in 3Q15 from 96 basis points in 2Q15 and from 106 basis points in 3Q14.
The company expects to fall below 4%–7% growth of operating fees in 2015. The strong US dollar has contributed toward lower growth in fee revenues. The company sees it as challenging to grow 2015 operating fee revenue at least 2% above the 2015 growth of operating expenses.
For net interest revenue, the company expects to be near the lower end of a previously communicated range of $2.16 billion to $2.22 billion. State Street is making its next set of investments in digitizing enterprise in order to improve cost structure and provide more value to clients.