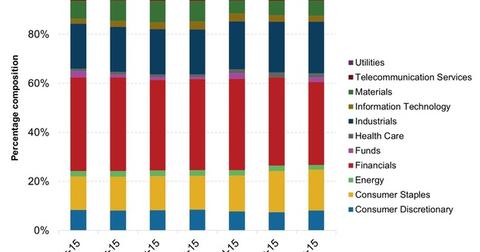 The JPMorgan Latin America Fund Class A (JLTAX): Portfolio Overview
By David Ashworth

Oct. 30 2015, Published 12:50 p.m. ET
Overview
The JPMorgan Latin America Fund Class A (JLTAX) seeks long-term growth of capital by investing "primarily in securities of Latin American issuers and other investments that are tied economically to Latin America." On occasion, the fund can hedge a part of its foreign currency exposure into the US dollar.
The fund management team uses active and fundamental research "relying less on published data and more on subjective analysis through company visits by locally based country specialists." The fund's literature clarifies that decisions about individual securities take precedence over decisions about geographic exposure. Macro research forms a framework for bottom-up security selection.
Article continues below advertisement
JLTAX's assets were invested across 59 holdings as of September 2015, when it was managing assets worth $61.37 million. Its September portfolio included equity holdings in Fomento Económico Mexicano (FMX), Grupo Aeroportuario del Sureste (ASR), Cemex (CX), and Embraer SA (ERJ), which constitute a combined ~12% of the fund's total portfolio.
Historical portfolios
For this analysis, we'll be considering holdings as of August 2015 as that is the latest sectoral breakdown available as of October 30, 2015. JLTAX's holdings after August reflect valuation-driven changes to the portfolio, not the actual holdings. In the graph above, the sectoral composition for September 2015 has been taken from the fund house's website. A breakdown of JLTAX's holdings and changes in portfolio follows:
Financials and industrials make up the core of the JLTAX's portfolio, with these two sectors forming a combined 55% of the fund's assets. Consumer staples is the only other sector with double-digit exposure at 16.7%.
The share of financials was over 38% in March 2015. However, the sector's exposure came down to 34% in September 2015. The fall in financials stocks has been primarily responsible for the reduction, though fund managers did sell off a few securities in the period.
Industrials and utilities, on the other hand, saw their shares increase a bit in September from the previous year.
Consumer staples stocks saw their shares sharply increase from 10.8% in September 2014 to 16.7%.
Meanwhile, the energy, information technology, and materials sectors saw reduced exposures in JLTAX's portfolio by September 2015 compared to 2014. But how did this sectoral composition impact the fund's returns in September 2015?
Continue to the next part of this series to find out.