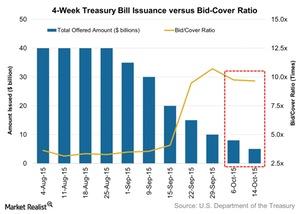 Indirect Bidders Lose Interest in 4-Week Treasury Bills
By Lynn Noah

Dec. 4 2020, Updated 10:50 a.m. ET
Auction for 4-week Treasury bills
The US Department of the Treasury conducted the weekly auction for four-week Treasury bills (or T-bills) on October 14. The issuance was $5 billion—$3 billion lower than in the previous week and the sixth consecutive reduction in the auction amount.
The bid-to-cover ratio, depicting overall demand, fell 0.8% from the previous week to 9.7x. Coverage for the one-month T-bills auction has averaged 4.3x so far in 2015, down from 4.4x for all the auctions held in 2014.
The high discount rate for the October 14 auction came in at 0%, the same as in the previous week and unchanged for the past five weeks.
Article continues below advertisement
Market demand falls
Market demand for the four-week Treasury bills fell from the previous week. The percentage of indirect bids fell to 20.0% from 29.9% week-over-week. Indirect bidders include foreign central banks.
The share from domestic investors rose marginally for this auction. The percentage of direct bids rose to 10.2% from 8.3% week-over-week. Direct bidders include domestic money managers, such as BlackRock (BLK) and Wells Fargo (WFC).
The share of primary dealer bids rose to 69.8% from 61.8% in the previous week. Primary dealers are a group of 22 broker-dealers that are authorized by the Fed. Including firms such as JPMorgan Chase (JPM) and Morgan Stanley (MS), they are obligated to bid at US Treasury auctions and take up the excess supply.
Investment impact
Mutual funds, such as the MassMutual Select Strategic Bond Fund (MSBAX) and the T. Rowe Price US Treasury Long-Term Fund (PRULX), invest in Treasury securities. MSBAX provided a week-over-week return of 0.29%, and the weekly return of PRULX came in at 1.2%.
For more analysis on mutual funds, please visit Market Realist's mutual fund page.