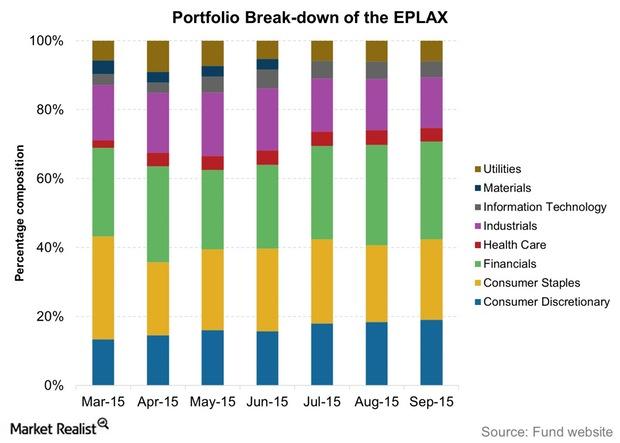 The EP Latin America Fund A (EPLAX): Historical Portfolio Overview
By David Ashworth

Dec. 4 2020, Updated 10:43 a.m. ET
Overview
The EP Latin America Fund Class A (EPLAX) aims for income and capital appreciation by investing "at least 80% of its net assets, which include borrowings for investment purposes, in equity securities of Latin American companies of any market capitalization. The Fund considers a company to be Latin American if the company is organized in Latin America or it derives at least 50% of its revenues or profits from business activities in Latin America."
But EPLAX does not place any limit on geographic allocation within Latin America, which includes Mexico, Central America, and South America. Fund managers conduct bottom-up research in order to shortlist companies while applying a top-down approach for selecting countries.
Article continues below advertisement
EPLAX's assets were invested across 40 holdings as of September 2015, when it was managing assets worth $14.17 million. In the fund's August portfolio, equity holdings included Ambev SA (ABEV), Banco Bradesco SA (BBDO), Banco Macro SA (BMA), and Bancolombia SA (CIB), which make up a combined 10.7% of the fund's portfolio.
Historical portfolios
For this analysis, we'll be considering EPLAX's holdings as of August 2015, as this is the latest sectoral breakdown available. The fund's holdings after August reflect valuation-driven changes to the portfolio, not the actual holdings.
Here's a sectoral breakdown of EPLAX's holdings:
Financials and consumer staples lie at the heart of the portfolio.
Consumer discretionary also has a large representation in the portfolio.
The only other sector whose portfolio exposure is in double digits in industrials.
Notably, the fund does not have exposure to the telecom services sector.
But there have been several sector-level changes to the portfolio in the year preceding September 2015. Below is a rundown of these changes:
Financials, which used to make up less than 23% of the fund's assets in 2014, now form over 28%.
Exposure to consumer staples has increased YoY (year over year), though in September, it was down from the 30% level seen in March.
Exposure to consumer discretionary stocks has edged down a bit YoY, but it's still higher than the 13% levels seen in the first three months of 2015.
Industrials also find a smaller space in the portfolio than they did a year ago.
Materials were eliminated from the portfolio after June 2015.
Perhaps most notable is the decision of fund managers to exit the energy sector in December 2014. But the most important question remains: How did these decisions impact the EPLAX's performance for September?
Continue to the next part of this series to find out.