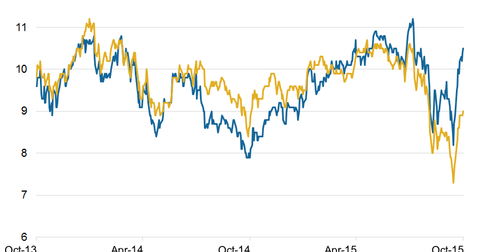 Blackstone Trades at a Premium on Relative Outperformance
By Robert Karr

Updated
Expanding operations
Blackstone (BX) reported an economic net loss of $416 million for the third quarter of 2015. The company's earnings fell due to market rout in the United States and international stocks. The company's distributable earnings were $692 million, or $0.58 per unit, in 3Q15, up 1% from the corresponding period last year. Net realized performance fees also rose at a compounded annual growth rate of 88% on the past two years to $2.7 billion in 3Q15.
Article continues below advertisement
Recent numbers
Blackstone declared a second quarter distribution of $0.49 per common unit payable on November 2, 2015. The company has made total distributions of $2.12 per common unit in 2015, up by 58% in comparison to the previous year.
Blackstone stock has fallen 17% over the past six months on the expected fall in portfolio holdings. However, the company had its best performing quarter in 1Q15. The company stated in a conference call that most of its losses, reported in 3Q15, have been reversed in the current quarter.
The company is valued at 10.5x on a one-year forward earnings basis compared to its peers trading at 9x. The premium has widened marginally over the last quarter due to the perceived outperformance of the company when compared with its peers in alternative investment management.
Blackstone has a dividend yield of 8.5% as compared to its peers with the following dividend yields:
Focus on performance and innovative offerings
Blackstone's focus on the performance of its portfolio companies and constant innovative offerings to its network of limited partners could remain as important factors in the company's future performance.
Diversification through offerings such as hedge funds, credit, and advisory, could decrease Blackstone investors' general risk perception. The debt markets should generate returns in the range of 4%–5%. If Equity's attractiveness rises, the overall perception of alternative asset managers should too, especially for the bigger players that are part of the iShares Dow Jones US Financial ETF (IYF).
From our perspective, Blackstone has seen the bottom in terms of value for its portfolio holdings. The company could benefit from record dry powder, improvement in European equity and debt markets, and domestic equity markets.