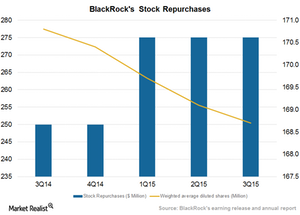 BlackRock Rewards Shareholders through Repurchases and Dividends
By Robert Karr

Updated
Higher dividend yields
BlackRock (BLK) has historically paid out the major portion of its profits in dividends. The company increases the dividend per share in line with performance.
In 3Q15, BlackRock declared a total dividend per share of $2.18, up by 13% as compared to the prior year's quarter. This translates to an annualized dividend yield of 2.7%, which is higher than the industry average of 1.9%. In comparison, BlackRock's peers have the following yields:
Together, these companies form 1.7% of the SPDR S&P 500 ETF (SPY).
If the company continues to deliver double-digit growth in EPS (earnings per share), it will mean higher dividends per share. BlackRock's share price will also be supported by above-industry-average dividend yields.
Article continues below advertisement
Stock repurchases
BlackRock has repurchased $1.1 billion worth of its own stock over the past four quarters. In 3Q15, the company repurchased stock worth $275 million. It has consistently reduced its weighted average number of shares to 168.7 million as of September 30, 2015, from 170.4 million on September 30, 2014.
BlackRock reported an increase of 12% in net income to $3.3 billion from last year's $2.9 billion. Considering its double-digit EPS growth due to increased focus on iShares and Retail clientele, the stock could continue to trade at around a 16x price-to-earnings ratio. This could result in 7%–10% appreciation in the stock and a 2%–3% dividend yield.
Over the past six months, the stock has fallen by 14% due to macroeconomic factors and the slowing economy. However, BlackRock's performance has been more resilient in the wake of the new client assets it continues to attract across product offerings.
The ownership pattern dominated by mutual funds, financial institutions, and ETFs also reflects the stability investors see in the stock's performance.