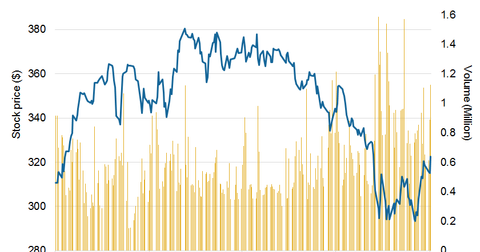 BlackRock 3Q15: Net Income Declines, Earnings Beats the Estimates
By Robert Karr

Updated
BlackRock beats the estimates
BlackRock (BLK), the world's biggest asset manager, reported its 3Q15 earnings on October 14, 2015. The company beat Wall Street analysts' EPS (earnings per share) estimates of $4.58, posting EPS of $5.00.
BlackRock reported net income of $843 million in 3Q15, down by 8% from $917 million in the prior year's quarter. Reported revenues were $2.1 billion, up by 2.1% when compared with the prior year's quarter. However, the company's total assets under management fell to $4.5 trillion from $4.7 trillion, mainly due to a fall in the S&P 500 (SPY) on the back of slowing growth and lower interest rates.
Article continues below advertisement
In a company press release on October 14, 2015, BlackRock chairman and CEO (chief executive officer) Laurence D. Fink noted, "BlackRock's third-quarter 2015 results, including year-over-year growth in revenue and operating income, demonstrate the resilience of our global, diversified investment platform, Clients seeking long-term investment solutions, strong risk management and durable alpha generation turned to BlackRock amidst challenging market conditions, driving total net inflows of $50 billion. Long-term net inflows of $35 billion reflected positive flows across investment styles and client types."
BlackRock Overview
BlackRock has become the world's largest asset manager in the span of just two decades. The company is managing $4.5 trillion in assets for governments, sovereign wealth funds, institutions, and retail clientele. It manages assets through various product offerings such as portfolio investing equities, fixed income, alternatives, and money market instruments across global markets and asset classes.
Other asset managers
BlackRock posted revenues of $11.1 billion in the last fiscal year. Let's compare this to revenues for BlackRock's peers:
JPMorgan Chase (JPM): $51 billion
Bank of New York Mellon (BK): $3.2 billion
State Street (STT): $2.7 billion
Together, these companies form 1.7% of the SPDR S&P 500 ETF.
To know more about BlackRock, you can read BlackRock – the biggest asset manager in the world.