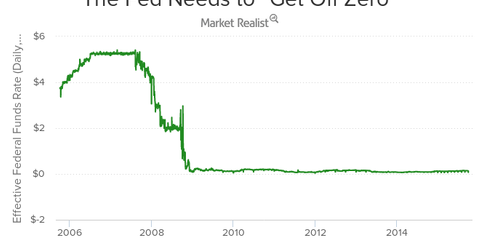 Bill Gross: The Fed Needs to 'Get off Zero and Get off Quick'
By Surbhi Jain

Updated
The Fed should "get off zero and get off quick"
Legendary fund manager Bill Gross currently manages the $1.4 billion Janus Unconstrained Bond Fund at Janus Capital (JNS). He's also the co-founder of PIMCO (Pacific Investment Management Company). He was associated with PIMCO until September 2014. PIMCO manages ~$1.7 trillion worth of assets. At Janus, Gross releases a monthly investment outlook. His outlook for October recommended that global central bankers with economies running on zero interest rates should "get off zero and get off quick."
[marketrealist-chart id=702637]
Article continues below advertisement
According to Gross, the liftoff from the ZIRP (zero interest rate policy) is key to the survival of liability-based business models. The liftoff is particularly essential for the "aging boomer society" that's banking on their 401(k) retirement plans to provide for their future. They don't know that the ZIRP is steadily eroding the value of their investment.
Will economies "run on empty" soon?
Gross makes reference to Peter Peterson's "run on empty" theory. Peterson is a billionaire and co-founder of the world's largest private equity shop, Blackstone Group (BX). He wrote the book Running on Empty. According to Peterson, the developed world is beginning to run on empty. He based his point on the fact that "investments discounted at near zero over the intermediate future cannot provide cash flow or necessary capital gains to pay for past promises in an aging society," said Gross.
This harsh fact about zero rates eroding investment returns impacts businesses following the liability-based model. Pension funds and insurance companies are the first to fall prey. AIG (AIG), Berkshire Hathaway (BRK-A) (BRK-B), and MetLife (MET) are among the top insurance companies in the US (SPXS). Meanwhile, there's also a major part of society that Gross refers to as the "aging boomer society," that's heading towards retirement. This part of society is banking on returns from their 401(k) plans to support their future.
Gross believes that a 2% interest rate could do the trick. We'll discuss this next.