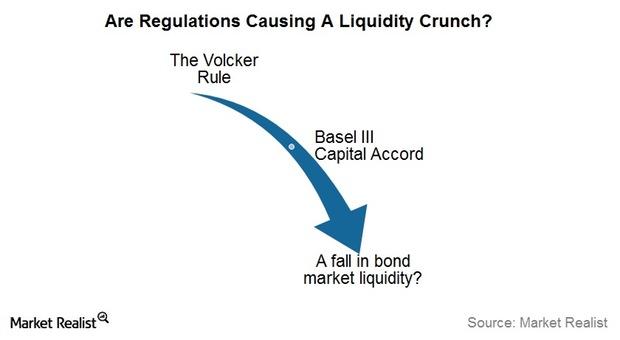 Assessing Market Regulations: Headed for a Liquidity Crunch?
By David Ashworth

Oct. 19 2015, Published 4:40 p.m. ET
Market making declines on regulation
Some market participants have pointed out that regulations are the primary reason behind worries about bond market liquidity. These regulations, they claim, have led to a decline in the market-making capability of banks, which had traditionally been the backbone of market liquidity. The following two sets of regulations generally come up in this discussion:
The Volcker Rule
The Basel III Accord
Article continues below advertisement
The Volcker Rule
The Volcker Rule is specific to financial markets in the US. Formally known as section 619 of the Dodd-Frank Wall Street Reform and Consumer Protection Act, the Volcker Rule aims to prevent banks (C) (COF) (PNC) from making certain proprietary investments. Speculative investments by banks had contributed substantially to the financial crisis of 2008, and the Volcker Rule, which has been effective since April 1, 2014, was brought about to end these investments in order to reduce future risks to banks in another crisis situation.
Under this rule, banks are prohibited from undertaking the short-term trading of securities and derivatives, among other things, on their own account, when these investments aren't benefitting their customers. Banks are, however, allowed to continue as market makers.
The Basel III Accord
The third form of the Basel Committee on Banking Supervision's capital accord has markedly raised the quantum of capital required by banks, which has made it quite expensive for them to conduct business.
A previous version required banks to set aside more capital for riskier assets than for less risky assets. However, the latest version has introduced a leverage ratio that requires banks to set aside the same level of capital for all assets, regardless of the associated risk. What this does is it makes banks set aside a certain amount of capital even when the security in question has lower risk. This could lead to banks reducing their market-making businesses in favor of tying up a certain level of capital, even when the risk involved with a trade is low.
Article continues below advertisement
How this impacts you
Although there's debate out there related to the impact that regulations like this have had on the market-making ability of banks, it wouldn't be incorrect to say that such activity should decline—if it hasn't already. Does that necessarily mean a liquidity crunch is coming in the future? It's hard to say, but investors in bond markets (PGSIX) (MSBAX) can expect a drop in liquidity once the target range of federal funds rate is raised. This is so because, even though banks would continue in their role as market makers, the aforementioned regulations may force them to reduce the risk on their books, thus leading to a drop in activity.
As we move forward in this series, we won't weigh in on the debate as to whether the three segments of the bond market—Treasuries, investment-grade bonds, and high-high-yield corporate bonds—are facing liquidity issues. Instead, we'll look at the present state of these bonds and attempt to inform investors in bond mutual funds about the impact liquidity can have on their investments.
Continue to the next part of this series for an overview of the state of liquidity in the US Treasuries market.