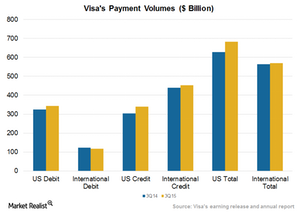 Visa's Global Payment Volumes: Strong Growth in June Quarter
By Robert Karr

Updated
Global payment volumes
Visa (V) posted strong June quarter earnings backed by 11% growth in global payment volumes on a constant dollar basis. The growth was in line with the expected numbers. The international payments volume expanded at a faster pace of 14%—compared to the US payment volume growth of 9%. US credit card growth was recorded at 12%—compared to the same quarter last year. It was flat compared to the previous quarter—mainly due to the completion of Chase's conversion to Visa cards.
Article continues below advertisement
US Debit expanded at a slower pace of 6%—compared to the previous year. It was a fall of 0.50% compared to the previous quarter. The company's payment volume has been negatively impacted by almost 3% due to the fall in gasoline prices. The savings, due to a fall in fuel prices, are expected to be deployed in debt repayment and investments by the consumers.
International payments
Visa saw an expansion in the international payments volume mainly due to spending in the Middle East, China, southeastern Europe, and South Asia. The growth was modest compared to the March quarter. This was due to the start of domestic payment volume by a major Chinese bank. In July, US credit payments' volume growth was 10%. The US Debit growth was at 8% compared to the previous year.
Cross-border volumes
Visa's global cross-border volumes grew at 8% on a constant dollar basis. However, it fell by 1% compared with the March quarter. The company saw lower volume growth from Russia, Canada, and Brazil due to lower commodity prices. The strong dollar in the past few quarters has continued to depress in-bound commerce into the US.
Visa achieved net profits of $5.4 billion in the last fiscal year. Here's how some of Visa's peers in the payment processing industry fared with their net profits in the last fiscal year:
MasterCard (MA) – $3.6 billion
American Express (AXP) – $5.9 billion
Discover Financial (DFS) – $2.3 billion
Together, these companies account for 2.25% of the Technology Select Sector SPDR Fund (XLK).