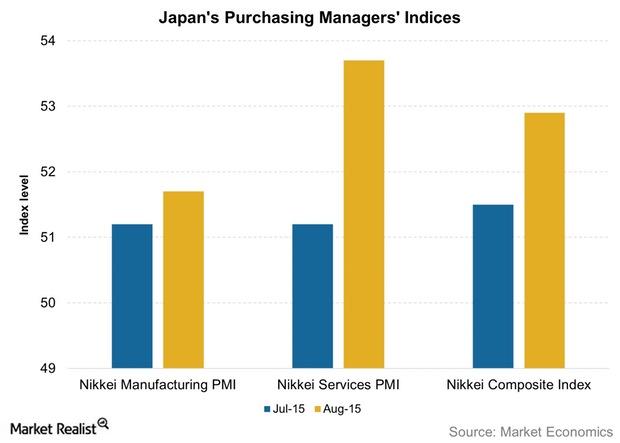 Japan's Manufacturing and Services Sectors Expanded in August
By David Ashworth

Sep. 23 2015, Updated 3:08 a.m. ET
Composite index
The Nikkei Japan Composite PMI (purchasing managers' index) is a weighted average of the manufacturing and services PMIs published by Markit Economics. It rose to 52.9 points in August from 51.5 July. This indicated an expansion in overall activity from a month ago. For our readers, I'll clarify that any reading above 50 indicates a rise in activity in that sector while a reading below 50 indicates a contraction.
Article continues below advertisement
Manufacturing activity
Manufacturing activity in Japan, represented by the Nikkei Japan Manufacturing PMI, rose in August, with the indicator rising to 51.7 points from 51.2 in July. New orders, output, and employment, which form three-fourths of the Nikkei Manufacturing PMI, all increased in the month. The rise in new orders was the sharpest since January 2015. While output rose for the fourth successive month in August, its pace fell from July. Meanwhile, the employment index rose for the fifth consecutive month.
A fall in manufacturing activity due to a decrease in exports to China held further expansion of the manufacturing PMI back.
Services activity
Though manufacturing activity rose, services activity in Japan far outpaced it. The Nikkei Japan Services PMI jumped to 53.7 points in August, from 51.2 July. This was the fastest pace in close to two years. August also marked an expansion in services activity for the fifth successive month.
Impact on mutual funds
A rise in activity in both the manufacturing and services sectors is positive for Japan-focused mutual funds like the Fidelity Advisor Japan Fund – A (FPJAX), the Nuveen Tradewinds Japan – A (NTJAX), the T. Rowe Price Japan Fund (PRJPX) and the Matthews Japan Fund – Investor Class (MJFOX). While FPJAX has a combined 31% of its assets invested in the financials and IT (information technology sectors, PRJPX has ~21% invested in these two sectors. So a change in financial services activity should affect the former more than the latter, along with affecting companies like Nomura Holdings (NMR), ORIX Corporation (IX), and Mizuho Financial Group (MFG).