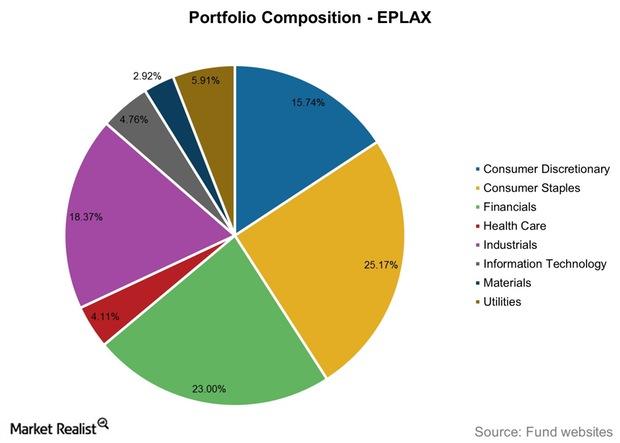 The EP Latin America Fund Class A (EPLAX): Must-Knows
By David Ashworth

Nov. 20 2020, Updated 4:35 p.m. ET
The EP Latin America Fund Class A
Euro Pacific Asset Management offers the EP Latin America A Fund (EPLAX), which aims for income and capital appreciation by investing "at least 80% of its net assets, which include borrowings for investment purposes, in equity securities of Latin American companies of any market capitalization." The fund "considers a company to be Latin American if the company is organized in Latin America or it derives at least 50% of its revenues or profits from business activities in Latin America." It does not place any limit on geographic allocation within Latin America, which includes Mexico, Central America, and South America.
The fund's investment process involves three steps:
screen, which eliminates companies based on their negative attributes
scorecard, which ranks companies on the basis of macro and micro fundamental attributes
review, which involves "regular and dynamic evaluation of portfolio holdings"
Fund managers conduct bottom-up research in order to shortlist companies while applying a top-down approach for selecting countries.
Article continues below advertisement
Fast facts
The EP Latin America Fund Class A was created in November 2011, and as of August 2015, the fund was managing assets worth $14.7 million. Geographically, at the end of June 2015, 55.8% of the fund's assets were invested into companies from Mexico. Companies from Brazil, Columbia, Argentina, and Chile made up 32.6%, 6.9%, 3.5%, and 1.1%, respectively, of the fund's June portfolio.
The fund's net expense ratio for this asset class is 1.75%. It charges a redemption fee of 2.0% if investments are redeemed within 30 days of purchase. The management fee is 1.08%, while the 12b-1 fee, which represents distribution and service fees, is 0.25%. The maximum sales charge that the fund can levy is 4.5%. The minimum investment amount for this share class is $2,500, with minimum subsequent investments of $250.
The fund had 42 holdings in its portfolio as of June 2015. Grupo Aeroportuario del Centro Norte (OMAB), Itaú Unibanco Holding (ITUB), and Ambev (ABEV) were among the fund's top ten holdings. Banco Macro (BMA), Bancolombia (CIB), and Pampa Energia (PAM) also found homes in the fund's portfolio.
Fund managers
The fund is managed by Russell Hoss and Richard Hoss, who have been managing the fund since inception.
In the next part of this series, we'll look at EPLAX's performance in August 2015.