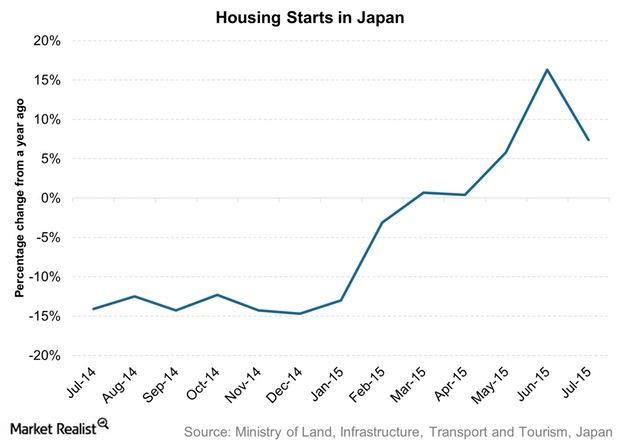 Growth in Japanese Housing Starts Slowed in July 2015
By David Ashworth

Nov. 20 2020, Updated 4:42 p.m. ET
Japanese housing starts
Japanese housing starts rose in July 2015, but their pace slowed compared to a month ago. Housing starts rose by 7.4% in July compared to a year ago. In June 2015, they had risen by a staggering 16.3%.
With the rise in July, Japanese housing starts have risen for five consecutive months. The data for this indicator is collected by Japan's Ministry of Land, Infrastructure, Transport and Tourism. This report looks at three types of construction: detached houses, tenement houses, and apartment houses.
Article continues below advertisement
In Japan, housing starts are affected by the number of households, which closely ties in with a transition in the population as well as the standard of living. Construction costs and land prices also have a large bearing in the change in housing starts. A fall in construction costs and real estate prices should lead to a rise in demand for housing, given a relatively unchanged unemployment rate. Housing starts can also indicate a change in income levels and the prevailing rate for housing loans.
What does this indicate?
Housing starts are one of the indicators of underlying strength in the economy. Though the Japanese economy experienced a contraction according to preliminary estimates, the housing starts report shows that at least the housing market is doing well. This bodes well for homebuilders like Sekisui House and Mitsui Home.
The Residential Property Price Index for Japan for May 2015, which is the latest available figure, rose 1.8% from a year ago, but the Residential Land Price Index was down 1.7%. The Detached House Price Index was down 0.4% in May 2015 from a year ago while the Condominiums Price Index surged 7.1%. The Residential Land Price Index has fallen for all three reported metropolitan areas: Tokyo including its suburbs, Nagoya, and Kyoto-Osaka-Kobe. This fall can partially explain the surge in housing starts.
It can also mean that financial institutions like Mitsubishi UFJ Financial Group (MTU), Mizuho Financial Group (MFG), and Sumitomo Mitsui Financial Group (SMFG) may see a rise in housing loans. Among the four Japan-focused mutual funds, the Fidelity Advisor Japan Fund – A (FPJAX) has the highest exposure to financials, followed by the Nuveen Tradewinds Japan – A (NTJAX). Meanwhile, the T. Rowe Price Japan Fund (PRJPX) and the Matthews Japan Fund – Investor Class (MJFOX) invest only ~10% of their portfolios in the sector.