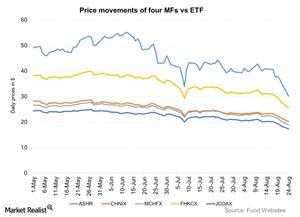 China's Stock Market Meltdown and China-Focused Mutual Funds
Fear of global slowdown
China's stock market tumbled again on Monday, August 24. As a result, major stock markets around the globe also plunged. The fear of a global slowdown is looming in the minds of the investors. The Shanghai Composite Index is down 42% from its June peak.
In order to curb the fallout, China's Central Bank, The People's Bank of China (or PBoC), further cut the benchmark lending rate by 25 basis points to 4.6% on Tuesday, August 25. It's the fifth rate cut since November 2014. It also cut the bank's reserve requirement ratio by 0.5%. This move is intended to maintain adequate liquidity in the system.
Despite the rate cuts introduced by the PBoC, the Chinese stock market fell on Wednesday, August 26. This shows that investors are still worried whether markets will stabilize soon.
Article continues below advertisement
The four mutual funds that we're analyzing in this series fell due to the Chinese stock market meltdown. These funds are the China Fund Class I (CHNIX), the Fidelity China Region Fund Class C (FHKCX), the John Hancock Greater China Opportunities Fund Class A (JCOAX), and the Matthews China Investor Class (MCHFX).
Surprise currency devaluation
In the week ended August 14, the PBoC, in a move to boost exports and accelerate a slowing economy, devalued its currency against the US dollar by nearly 2% for three consecutive days. Exporters are expected to benefit from this move because their products become cheaper in the international market.
Companies like Tencent Holdings (TCEHY), China Mobile (CHL), and Taiwan Semiconductor Manufacturing Co. (TSM), which have large export exposure, would benefit from the cheaper yuan since their export revenue would increase.
These companies are included in the top ten holdings of the four mutual funds we're analyzing. So better performance could drive the returns of these mutual funds as well.