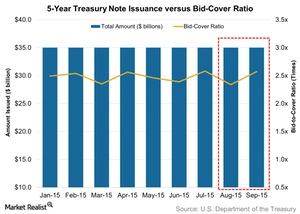 Bid-to-Cover Ratio Surges for Five-Year Treasury Notes
By Lynn Noah

Updated
Five-year Treasury note auction
Five-year Treasury maturity is important to mutual funds. The difference in yield between the 30-year and five-year Treasury notes, or T-notes, yields gives the slope of the yield curve. The US Treasury Department holds auctions of five-year T-notes every month.
Mutual funds such as the American Funds US Government Sec A (AMUSX) and the T. Rowe Price US Treasury Long-Term (PRULX) have holdings in five-year Treasury notes.
Article continues below advertisement
Key takeaways
Notes worth $35 billion were auctioned on September 23, 2015.
The issue's coupon rate was 1.375%—the same as in August's auction.
The high yield for September's auction was slightly higher at 1.467% compared to 1.463% in August.
The bid-to-cover ratio rose by 9.8% to 2.6x compared to 2.3x in August's auction. The bid-to-cover ratio depicts overall demand for the auction.
Market demand analysis
Fundamental market demand, which includes bids from direct and indirect bidders, rose from 57.5% of the accepted competitive bids in August to 68.5% in September's auction.
Indirect bidders—a category that includes foreign central banks—accounted for 63.5% of the accepted bids, up from 50.1% in August. Meanwhile, the percentage of direct bids fell to 5.0% in September from 7.5% in August. Direct bids include bids from domestic money managers such as Invesco (IVZ) and Wells Fargo & Company (WFC).
Due to the rise in market demand, primary dealers such as Credit Suisse (CS) and Morgan Stanley (MS) had to take down a smaller amount of the auction. The takedown was 31.5% of accepted competitive bids, down from 42.5% in August's auction.
Yield analysis
Following the auction, the yield on five-year Treasury notes in the secondary market rose marginally by 3 basis points from the previous day. It ended September 23 at 1.47%—compared to 1.44% on September 22.