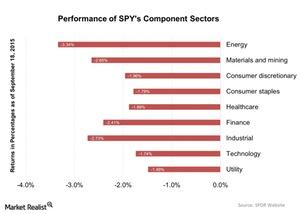 AbbVie and Bristol-Myers Squibb Shine amid Murky Waters
By Renee Blakely

Updated
US sector performance update
All component sectors of the SPDR S&P 500 ETF (SPY) went into red territory on Friday, September 18, in the wake of the Fed's decision day on Thursday. The market turned more volatile when the Fed decided to keep the rate unchanged.
Perhaps the Fed's voting members' citations of declining emerging market growth became more than just a concern to some. The following graph shows the performances of the component sectors of the S&P 500 Index. Utilities outperformed all others—not a good sign.
Article continues below advertisement
Rise of AbbVie and Bristol-Myers Squibb
AbbVie (ABBV) rose by 2.27% on September 18 and traded at $61.22. The trading volume of ABBV surged from 10,281,713 stocks on the previous day to 28,957,042 stocks on Friday, September 18. The stock had experienced some recent slack over the company's weakening sales numbers. The trailing one-month return of the stock is -7.10%.
The rise in AbbVie's stock price on September 18 is attributed to CFO Bill Chase's comments about the company's arthritis drug, Humira. The drug is anticipated to undergo greater sales in the third quarter outside the US. The drug's biosimilar won't be able to make it to market until 2020 because of the firm's intellectual property provision. Even if it does, the company is set to reduce its selling–distribution, general, and administration overheads. The comment received a positive response from investors. ABBV has earned 14 "buy" versus four "hold" recommendations and one "sell" recommendation.
Bristol-Myers Squibb (BMY), another pharmaceutical company, gained 3.46% on September 18. The stock traded at $64.34, crossing its 20-day, 50-day, and 200-day moving averages. BMY's volume surged from 7,396,427 on the previous day to 18,650,256 stocks on Friday, September 18. The stock earned 14 "buy", 12 "hold," and no "sell" recommendations. The company is speculated to be a takeover target.
The stocks at the bottom were Noble Corp. (NE), Denbury Resources (DNR), and Freeport-McMoRan (FCX). These stocks yielded -10.67%, -9.94%, and -9.71%, respectively, on September 18, 2015. These are high beta stocks and hence more volatile to the market movement. DNR and FCX have a beta of 1.57 and 1.74, respectively. Similarly, Genworth Financial (GNW), with a beta of 1.47, fell by -4.17% while Cameron International (CAM), with a beta of 1.76, fell by 3.10% on the day.
In the next article, let's take a look at the UK stock market.