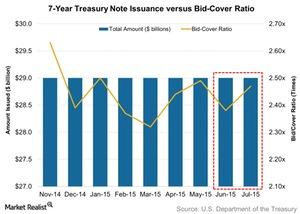 Overall Demand for 7-Year Treasury Notes Rose in July
By Lynn Noah

Updated
Seven-year Treasury notes auction
The U.S. Department of the Treasury holds seven-year Treasury note, or T-note, auctions every month. Seven-year Treasuries are intermediate-term maturities. This means that they're in the middle of the yield curve. Future economic growth and inflation expectations are key yield drivers. Their prices are also more sensitive to changes in yields—compared to short-term Treasury securities.
Article continues below advertisement
Key takeaways
The auction size was $29 billion. The auction date was July 30, 2015.
The overall demand was higher from the previous month. The bid-to-cover ratio rose 3.80% to 2.5x—compared to 2.4x in June's auction.
The high yield fell to 2.02% in July from 2.15% at the June auction. The high yield in June was the highest, so far, in 2015.
Demand analysis
Market demand for the seven-year T-notes was weaker than last month. It was 61.20% of the total accepted competitive bids in July—compared to 68.50% in June. This was mainly due to lower indirect bids. The percentage of indirect bids fell to 49.20% in July from 56.60% in June. Indirect bidders include foreign central banks. They indicate overseas demand for the auctioned securities.
Direct bids, as a percentage of competitive accepted bids, rose marginally to 12% in July from 11.90% in June. Direct bids include bids from domestic money managers like BlackRock (BLK) and State Street (STT).
Article continues below advertisement
Due to the lower market demand month-over-month, dealer takedown was higher at 38.80%—compared to 31.50% in June. Primary dealers are a group of 22 authorized securities dealers or brokers. They include companies like Credit Suisse (CS) and Goldman Sachs (GS). They're required to bid at Treasury auctions. They clean up excess supply.
Yield analysis
After the auction, yields on seven-year T-notes remained unchanged at 2.02% in the secondary market.
Investment Impact
Mutual funds provide exposure to T-notes. Their weekly returns were negatively impacted due to a rise in yields.