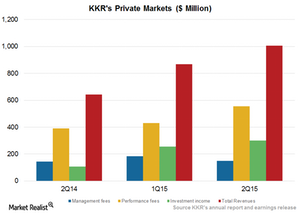 KKR's Private Markets Segment Reports Growth
By Robert Karr

Updated
Major segment contributes to revenues
KKR & Co. L.P.'s (KKR) Private Markets segment reported ENI (economic net income) of $666 million in 2Q15, up 17% compared to 1Q15 and up 77% compared to 2Q14. The company ended the quarter with AUM (assets under management) of $63 billion under its Private Markets segment, an increase of $1 billion compared to 1Q15. The increase was mainly due to an appreciation of its portfolio as well as new funds raised in European Fund IV and Global Infrastructure Investors II.
Of the total AUM, FPAUM (fee-paying assets under management) stood at $46.8 billion, a drop of $0.4 billion compared to 1Q15. The decrease was due to higher distributions and relatively lower fundraising in new funds.
Article continues below advertisement
Performing funds
In 2Q15, KKR's Private Markets segment generated a total income of $1 billion compared to $642 million in 1Q15. The increase was due mainly to higher investment income that resulted from appreciation in the company's private equity portfolio. The results also benefited from an increase in performance income due to increased net carried interest income from the company's multiple private equity funds.
KKR's (KKR) private equity portfolio rose 7.4% in 2Q15 and 11.8% in 1H15. KKR was one of the best-performing alternative asset managers. In 1H15, the company's portfolio outpaced the benchmark SPDR S&P 500 ETF (SPY) by more than 1,000 basis points.
KKR's income base was relatively lower in 2Q14, when the company reported a 50% drop in its EPS (earnings per share) growth. Let's compare that to KKR's peers.