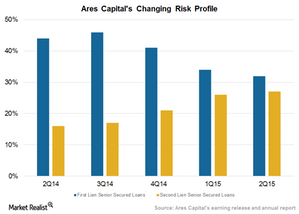 Why Ares Capital Is Increasing Its Focus on Second Lien Investing
By Robert Karr

Updated
Second lien investing
Over the past few quarters, Ares Capital (ARCC) has consistently increased its exposure to second lien senior secured debt. Second lien debt made up 65% of its new commitments in 2Q15. It also represents 27% of the company's total portfolio, while first lien senior secured loans represent 32%.
The exposure to first lien loans has decreased over the past few quarters, from 44% to 32% in 2Q15. The company is targeting a minimum yield that's 400 basis points higher on its second lien debt offerings than what it generates on first lien senior loans.
Article continues below advertisement
The strategic change will help the company boost its average yield on its overall portfolio. The overall risk profile has deteriorated marginally but remains strong. The weighted average debt-to-EBITDA (earnings before interest, tax, and depreciation) of 5x and interest coverage of 3x among its portfolio companies is considered to be a better profile in this low-interest-rate environment.
Senior secured loan program
GE Capital's exit from the SSLP (senior secured loan program) will bring challenges as well as opportunities for Ares Capital. The major challenge will be to find new partners with similar or better capital resources and an understanding of the business. Still, Ares Capital benefits from a funded portfolio, while other players in the market will have to initiate operations from scratch. There's a certain void to fill with GE Capital's exit. But to a large extent, it can benefit Ares Capital if the company is successful in tapping new partners with sizable resources.
Ares Capital has generated returns of 11.2% on its book equity. This is higher than the peer average of 10.7%. Here's how a few of the firm's peers in investment management have fared in terms of return on equity:
Together, these companies form 1.36% of the Financial Select Sector SPDR Fund (XLF).