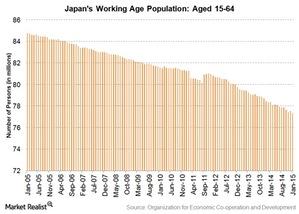 Shinzo Abe's Third Arrow: Structural Reforms to Boost Japan's Growth
By Surbhi Jain

Jul. 14 2015, Updated 4:39 p.m. ET
Abenomics has worked well for Japan so far
Abenomics is a three-pronged approach that Japanese Prime Minister Shinzo Abe likes to refer to as his "three arrows." These include fiscal stimulus, monetary easing, and structural reforms.
Last year, markets saw Shinzo Abe shoot his first two arrows of Abenomics:
1. huge fiscal stimulus
2. a dramatic program of monetary easing
Shinzo Abe's Liberal Democratic Party (or LDP) has been doing well for the Japanese economy since its triumph in 2012, when the party was able to secure its place in the upper house of the Diet, Japan's parliament.
Article continues below advertisement
Japan's stock market has been outperforming
Since Abe took over in 2012, the Japanese stock market has surged, outperforming all major developed markets (EFA). See Japan Outperforms Markets So Far this Year for more background.
Japanese stocks are up by almost 70% (in local currency) since late 2012. The iShares MSCI Japan ETF (EWJ) gained about 14.15% on a YTD (year-to-date) basis. The WisdomTree Japan Hedged Equity ETF (DXJ) has returned 16.03% in the same period. Corporate stocks Sony (SNE), Mitsubishi UFJ Financial Group (MTU), and Honda Motor (HMC) have gained above 40%, 30%, and 7% YTD, respectively.
Abe's core objective is to pull the world's third-biggest economy out of two decades of stagnation by expanding Japan's money supply, freeing up regulations, and encouraging the yen to fall.
Shinzo Abe targets the third arrow, structural reforms to boost Japan's growth
Abe believes it's time to shoot his third arrow: structural reforms. Abe's first attempt at structural reforms back in June 2013 failed to unleash growth. However, with his first two arrows hitting quite close to his target, Abe seems confident about now being the right time to re-introduce structural reforms to the economy.
There are several reasons to support Abe's belief in the timing of these structural reforms. We'll discussed them in the next part of this series.