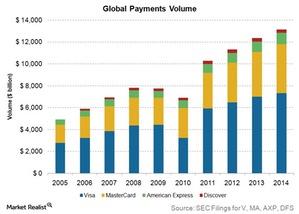 Payments and Purchase Volumes: Key Indicators for Card Companies
By Rekha Khandelwal, CFA

Jul. 16 2015, Updated 10:06 a.m. ET
Visa leads in payments volume
The major payments networks worldwide include MasterCard (MA), Visa (V), American Express (AXP), and Discover Financial Services (DFS), among others. Visa has a much greater volume than MasterCard in the global payments industry. In some countries, other local networks may have a leading position.
The above chart shows the growth in the global payments volume for Visa, American Express, MasterCard, and Discover over ten years. The payments network providers charge fees from card-issuing banks as well as acquiring institutions or banks. The fee is based primarily on the volume of activity on the cards. As a result, payments volume growth is a key driver of revenue for the card companies.
Article continues below advertisement
American Express leads in purchase volumes
Based on purchase volumes, the biggest players in the card market are American Express (AXP) and JPMorgan Chase (JPM). Together, they account for ~9.70% of the Financial Select Sector SPDR ETF (XLF). American Express targets affluent customers who are more likely to make high-value transactions. This explains its leadership in purchase volumes. It charges fees as a percentage of the charge amount processed for the merchant.
The graph above shows the largest credit card issuers globally based on credit and charge volume. Visa and MasterCard differ from other card issuers because they don't issue cards. They just offer payment networks to process transactions between the card issuer and the merchant. Card issuers like JPMorgan Chase rely on payments networks for processing transactions on the cards. In contrast, American Express and Discover issue their own cards. They also have their own payments networks.
Rising wealth levels
According to a Spectrem Group report, 10.1 million households in the US have $1 million or more in investable assets. This excludes the value of the primary residence. The number was 9.6 million in 2013. Out of these, 1.3 million households have $5 million or more in investable assets. This should be good news for American Express. It targets high-spending customers.