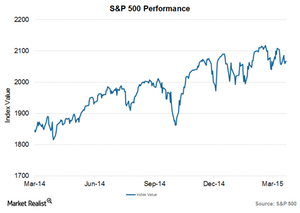 US Equities Consolidate at the Current Levels
By Robert Karr

Updated
Upward trend in 2015
Stock market performance is one of the key drivers of asset managers' revenue. This flows down to earnings and share prices. Some companies that will benefit from the rise in the US equity market are BlackRock (BLK), State Street (STT), Franklin Resources (BEN), T. Rowe Price (TROW), Morgan Stanley (MS), Berkshire Hathaway (BRK.B), and Vanguard.
US equities (SPY) continue their upward trend in 2015. The S&P 500 Index was marginally up by 0.52% to 2,067. The gains were smallest in the current year—mainly due to mixed data on factory output and real estate. The market is also waiting for the job's report in order to take further positions. Investors are awaiting the data for the upcoming earnings season. The data will give more clarity on the outlook of the interest rate hike and monetary policy action. US equities outperformed major economies like the European Union (EFA) and Japan (EWJ)—backed by a strong dollar, job growth, low interest rates, and healthy corporate balance sheets.
Article continues below advertisement
Impact for asset managers
Asset managers, with heavy exposure in US equities, will see their performance impacted by sideways or slower growth in the S&P 500 Index. The jobless claims fell unexpectedly in the current week. There's slowness in retail sales, residential construction, and manufacturing. The earnings data will be the key driver for the index in the coming weeks. The passive asset managers' performance, especially providing ETFs for US equities, will have a high correlation—compared to active asset managers providing mutual funds, private equity, and other investment options. Major mutual fund players include T. Rowe Price, Vanguard, Fidelity, and American Funds.