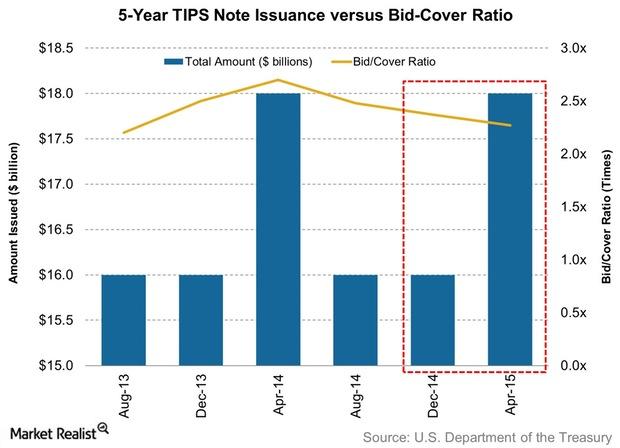 Real Yield for the 5-Year TIPS Auction in Negative Territory
By David Ashworth

Apr. 27 2015, Updated 3:17 p.m. ET
$18 billion 5-year TIPS auctioned
Treasury Inflation Protected Securities (or TIPS) are issued for 5-year, 10-year, and 30-year maturities. Auctions for 5-year TIPS are usually held in mid-April, with reopening in mid-August and December. The US Treasury auctioned 5-year TIPS on April 23.
To learn more about the importance of TIPS, you can refer to Implications of inflation and the necessity of TIPS. A TIPS-related ETF is the iShares Barclays Treasury Inflation Protected Securities Fund (TIP).
Higher inflation expectations move bond yields higher, including Treasuries (TLT), investment-grade corporate bonds (LQD), and high-yield debt (JNK). TIPS protect the value of debt securities from eroding due to inflation.
Key takeaways for this auction include:
The auction was held on April 23, 2015.
The auction size was set at $18 billion, which is $2 billion higher than December's reopening.
The issue's high discount rate was -0.335%, significantly lower than December's 0.395%.
Article continues below advertisement
Bid-cover ratio falls
The bid-cover ratio, which indicates overall demand, fell for the third consecutive auction to 2.3x from 2.4x. The bid-to-cover ratio is an important demand indicator for the securities. It equals the total value of bids received divided by the value of securities on offer. A higher ratio implies higher demand, and vice versa.
Market demand falls
Indirect bidders showed less interest in the auction compared with the December reopening, while direct bidders were more interested. Consequently, the share of primary dealers rose. A rise in primary dealer bids implies lower underlying market demand. Primary dealers are a group of 22 authorized broker-dealers who are obliged to bid at US Treasury auctions. BMO Capital Markets, a subsidiary of Bank of Montreal (BMO); TD Securities, a subsidiary of Toronto-Dominion Bank (TD), and Mizuho Financial Group (MFG) are some of the primary dealers.
Article continues below advertisement
Direct bids represent domestic demand, including bids from domestic money managers. It increased to 6.3% in the April 2015 auction from 5.2% in the December 2014 auction. Indirect bids include bids made by foreign governments and central banks. These bids comprised 61.5% of the securities auctioned, down from 64.8% in the previous one.
Yield analysis
The high discount rate came in at -0.335%—substantially lower than the 0.395% discount rate in December's auction and the lowest since December 2013. The discount rate represents the difference between 5-year Treasury yields and the expected inflation rate.