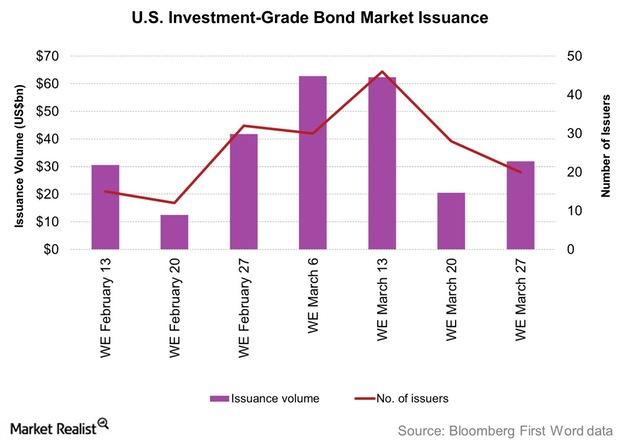 High-Grade Corporate Issuers Have Returned to the Market
By David Ashworth

Apr. 2 2015, Updated 2:06 p.m. ET
Deals and volumes for investment-grade bonds
Trends in the primary corporate bond market inform investors about the terms at which new debt is priced. They can help you assess how your investments are performing in terms of yield. They also help you assess the credit risks and spreads across sectors and decide whether you want to invest in an issue that's providing an attractive yield given its associated risks.
Corporate investment-grade borrowing rose to $31.9 billion in the primary markets in the week leading up to March 27, 2015. This was 55.8% higher than issuance worth $20.47 billion in the previous week. The number of issuers fell to 20—down by eight from the previous week.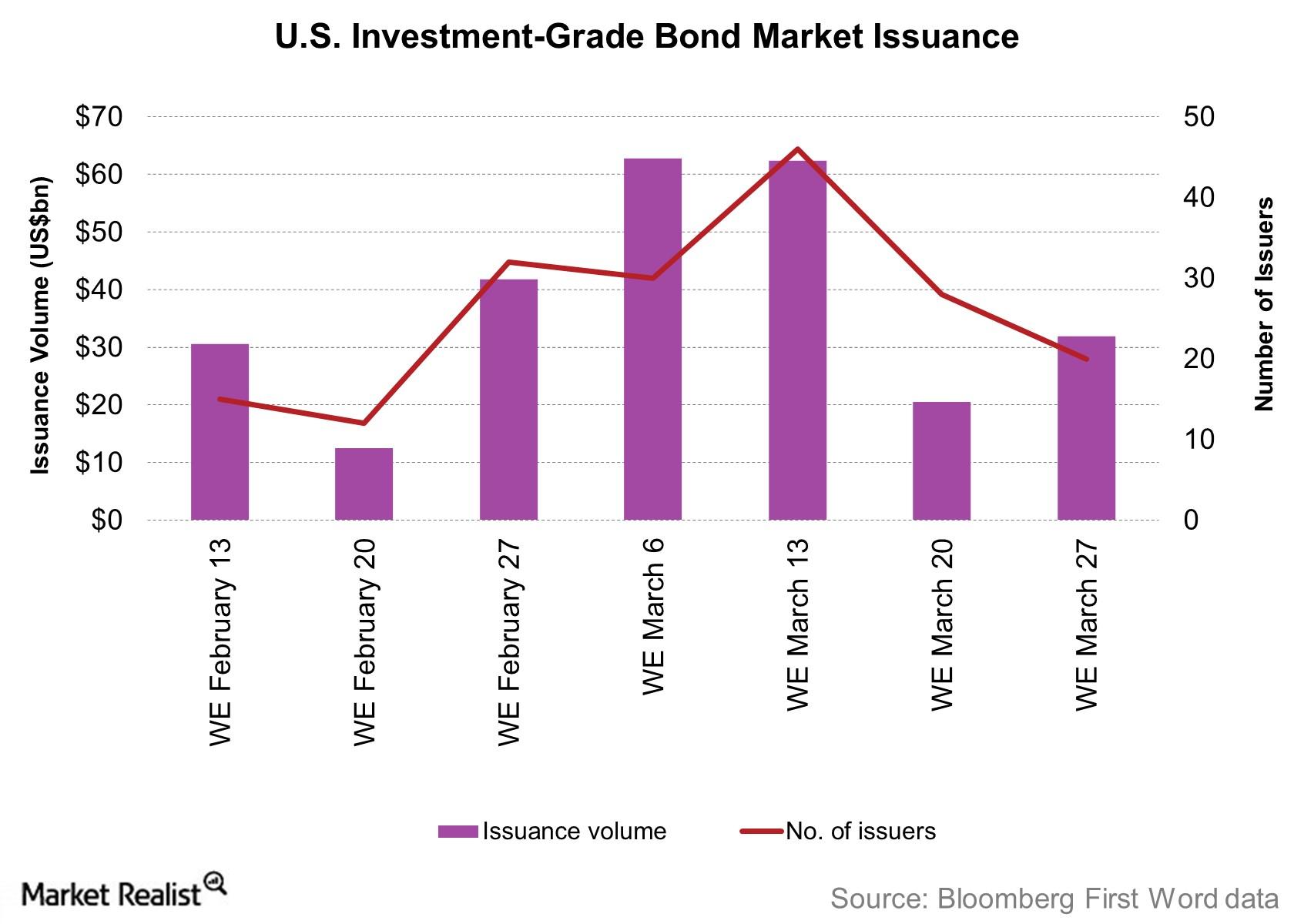 Article continues below advertisement
After a cautious week, issuers returned to the market last week. We saw caution in the previous week, as corporates wanted to hear what the Federal Reserve had to say regarding its monetary policy. In its statement, the central bank dropped the word "patient," opening doors to a hike in the federal funds rate sometime in 2015. When the rate does rise, it will point to an increasing interest rate environment, where corporate issuers may be required to pay more interest to creditors.
A step towards a rate hike may negatively affect Treasuries due to an increase in yields, which would push prices lower and hurt investors in ETFs like the iShares Barclays 20+ Year Treasury Bond Fund (TLT) and the iShares Barclays 7-10 Year Treasury Bond Fund (IEF).
UBS AG (UBS) provides investment banking, wealth and asset management, and other products and services. It issued the largest bonds in the week leading up to March 27. Credit Suisse (CS), HSBC Holdings (HSBC), Toronto Dominion (TD), and Ford Motor Credit, the financial services arm of Ford Motor Company (F), were other large issuers last week.
Issuance by quality and maturity
Most issues were fixed-rate. They accounted for 93.4% of the week's issuance. As per credit ratings, A-rated issuers were the most prolific. They made up 38.4%, or $12.25 billion, in issuance. They were followed closely by BBB-rated issuers, which formed 38.1% of the week's issuance.
In terms of maturity, the largest chunk of issuance, making up 38.2% of all issues, was in the five-year maturity category. It was followed by the ten-year maturity category, which saw 22.6% of the issuances. There was no issuance of more-than-30-year-maturity bonds for the fourth week in a row. However, perpetuals saw issuance worth $4.25 billion after no issuance in the previous week.
In the next part of this series, we'll highlight the major deals—including pricing, quality, and yields.