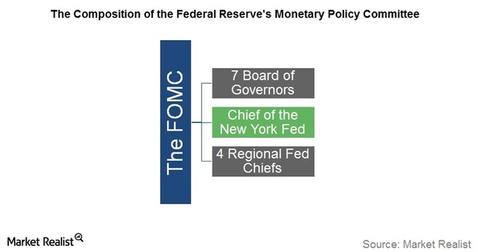 Why the Federal Reserve's Meeting Minutes Affect Your Investments
By David Ashworth

Updated
The monetary policy committee composition
The FOMC (Federal Open Market Committee) is the Committee that decides the stance of the Federal Reserve on monetary policy for the US. It consists of 12 members. Seven of these are members of the Board of Governors of the Federal Reserve. The chief of the Federal Reserve Bank of New York has a permanent seat and the remaining four are filled by chiefs of regional Federal Reserve banks.
The FOMC meets eight times in a calendar year to discuss monetary policy. On four of these occasions, it also holds a press conference and releases a summary of its economic projections, which contain the policymakers' assessment of economic growth, unemployment, and inflation.
Article continues below advertisement
Do the meeting minutes affect me?
You don't have to be a big-ticket institutional investor or money manager for the FOMC's minutes to have an impact on your investments. As a retail investor, you may have a smaller portfolio, but it will not be immune to changes in monetary policy.
The minutes of the monetary policy are much more detailed than the policy announcement document and give a more detailed account of the policymakers' thought process. These minutes can have as much an impact as the policy announcement itself. A rising or falling interest rate environment can impact your investment in Treasuries, via ETFs like the iShares Barclays 20+ Year Treasury Bond Fund (TLT), bonds, via the iShares Core US Aggregate Bond (AGG), or equities, via the iShares Core S&P 500 ETF (IVV), or other similar ETFs.
Also, if you have a floating-rate loan, or are planning to take a fixed or floating-rate loan in the future from companies like Ally Financial (ALLY), Bank of America (BAC), Wells Fargo (WFC), or US Bank (USB), your plans will likely be affected by the prevailing interest rates. If you were to find out that policymakers were planning to increase the federal funds rate, which may push lending rates up, you may just have enough time to save on interest payments by signing up for a loan sooner rather than later.