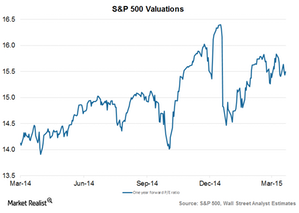 Earnings Season Is Expected to Impact US Equity Valuations
High equity valuations
US equities are trading at 15x on a one-year forward earning basis. This reflects 15%–20% growth in financial year 2016 earnings. Equities moved up to within three-quarters of their historical valuation range—mainly backed by strong corporate performance. The valuations will be impacted by the upcoming earnings season. It will start next week.
Wall Street analysts expect a difficult quarter for the earnings. Markets priced this in the current valuations. If the earnings season turns out to be according to or slightly better than the expectations, the index will witness upward revision in the valuations.
Currently, US equities are trading at a premium compared to the MSCI World Index, the MSCI Emerging Markets Index, and the Shanghai Composite Index. However, they're trading at a discount compared to the MSCI Europe and Nikkei 225 or Japan Index.
Article continues below advertisement
Market awaiting signals
Global equities are also waiting for clear indications and signals from the US markets. The European Union (EFA) and emerging market (EEM) governments are using monetary and fiscal measures to help combat the recession and deflationary fears. The improving US market would lead to higher chances of a rising interest rate scenario. This would further impact the policies adopted by markets across the globe.
The upcoming earnings season can help you understand whether the markets will see prolonged consolidation or upward movement from existing valuations.
The current markets could be more beneficial for diversified asset managers like BlackRock (BLK), State Street (STT), Franklin Resources (BEN), T. Rowe Price (TROW), Morgan Stanley (MS), Goldman Sachs (GS) Berkshire Hathaway (BRK.B), and Vanguard.