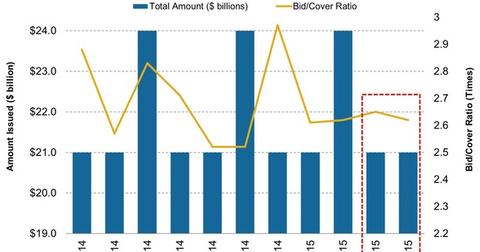 Demand Weakens at the 10-Year Treasury Notes Auction
By David Ashworth

Updated
Borrowing quantum maintained
The U.S. Department of the Treasury conducts a ten-year Treasury notes, or T-notes, auction every month. The ten-year Treasury yield is a benchmark yield for financial markets. It's used to compute the equity risk premiums for stocks. It's also used as a benchmark yield for real estate mortgages.
The ten-year Treasury yield affects returns on exchange-traded funds including the Vanguard REIT Index ETF (VNQ) and the SPDR S&P Homebuilders ETF (XHB).
ETFs such as the iShares 7-10 Year Treasury Bond ETF (IEF) and the ProShares Ultra 7-10 Year Treasury ETF (UST) provide exposure to ten-year T-notes.
In April, ten-year Treasury notes worth $21 billion were auctioned—the same as in March.
Article continues below advertisement
Key takeaways
The auction was held on April 8.
The auction size was set at $21 billion—the same as in the March auction.
The issue's coupon rate came in at 2%—the same as in the previous auction.
The high yield for March's auction was lower at 1.92%—the lowest since May 2013–compared to 2.14% a month ago.
Bid-to-cover ratio falls
The auction saw a lower bid-to-cover ratio than in the previous month. The ratio was 2.62x compared to 2.65x in March. So far in 2015, the ratio has averaged 2.6x compared to an average of 2.7x for the auctions held in 2014.
Article continues below advertisement
Market demand falls
Market demand for ten-year Treasury notes fell in April as both direct and indirect bids fell. The percentage of indirect bids at the April auction decreased marginally to 58.5% from 58.6%. Indirect bidders include foreign central banks. As well, there were 9.3% direct bids in April, down from 10.2% in March. Direct bids include bids from domestic money managers such as State Street (STT) and BlackRock (BLK).
Primary dealer bids at the April auction rose due to lower market demand. Their takedown rose to 32.2% of competitive bids, up from 31.2% in March's auction. Primary dealers act as market makers for the auctioned securities. They're obligated to bid at auctions. They include financial institutions such as Credit Suisse (CS).
Article continues below advertisement
Yield analysis
Yield on the ten-year Treasury notes rose in the secondary market and ended higher than the previous day. Yield rose by three basis points—or 0.03%—to 1.92% on April 8. Yield on the security ended the week higher at 1.96%.
Three-year T-notes auction
In the next part of this series, we'll analyze the key highlights from last week's Treasury auction of three-year T-notes.