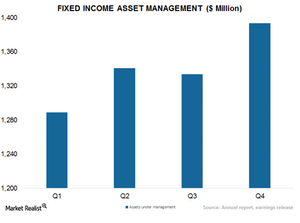 BlackRock expected to benefit from fixed income ETFs
PIMCO's effect on ETFs
BlackRock (BLK) received the majority of its new funds in the ETFs division from its US listed iShares funds. In the fourth quarter of 2014 alone, it received $44.4 billion in the ETFs division, forming more than 50% of the total funds received in the year.
When reviewed from the product category, fixed income ETFs drew $40.3 billion in the new funds in 2014. The increase in the fixed income ETFs was also due to the departure of Bill Gross from PIMCO (Pacific Investment Management Co.) in September 2014. The move led investors to look for broad, liquid ETFs in which to park their assets.
Article continues below advertisement
Macro factors impact flows
BlackRock, the leader in the ETFs market, has benefited the most from the money in motion due to the macro factors. Fixed income ETFs in the fourth quarter alone attracted almost half of the total new funds received in 2014.
Retail investors have shown an increased appetite for fixed income ETFs in order to diversify their portfolio holdings. Even the traditional bond buyers are looking at the ETF option due to its cost effectiveness and clarity in performance.
Several macroeconomic factors led to the increase in the demand for fixed income ETFs. They include Greece's debt negotiations with the European Union, the perception of the US government's debt as a safe haven, and investors looking for high yield bond holdings.
BlackRock faces competition in debt offerings for new funds from State Street (STT) and other diversified players such as Goldman Sachs (GS) and Morgan Stanley (MS). Together, they make up 5.57% of the Financial Select Sector SPDR Fund (XLF).