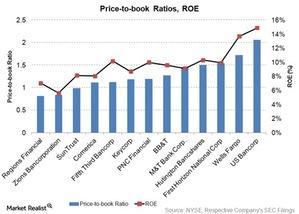 BB&T's Relative Valuation Is close to the Industry Average
Price-to-book ratio is close to the industry average
BB&T's (BBT) price-to-book ratio of ~1.3 is close to that of the diversified SPDR S&P Regional Banking ETF (KRE) and the SPDR S&P Bank ETF (KBE). It's higher than SunTrust Bank (STI) and Regions Financial (RF). They're located in the southern region. However, the ratio is much lower than US Bancorp (USB) and Wells Fargo (WFC).
The above graph compares BB&T's price-to-book ratio with its peers. BB&T's ROE (return on equity) is ~9.6%. This is much lower than other banks like Wells Fargo and US Bancorp. BB&T's ROE is average compared to other regional peers. BB&T forms around 7% of the iShares US Regional Banks ETF (IAT).
Article continues below advertisement
Does BB&T have lower total returns?
The above graph compares BB&T's total shareholder returns over different periods with peers and the S&P Financials Index. BB&T's total returns exceeded the peer average and the S&P Financials Index over a ten, 15, and 20-year period. However, BB&T's total returns were lower over the last five-year period.
BB&T's lower returns are probably due to its consistent stock price performance during the crisis. The stocks of peer banks and the S&P Financials Index constituents fell more during the crisis. BB&T's stock price didn't fall that low in percentage terms. As a result, the recovery is greater for other stocks. This resulted in higher percentage returns over the last five years.
The way forward
BB&T's loan and deposit growth is marginally below the industry average. Its ROE and price-to-book ratio are close to the peer average. Currently, it seems to be valued correctly. The bank should benefit from the anticipated interest rate hike in 2015—just like other banks.
Another development to watch for is the regulatory approval for the Susquehanna acquisition. It will expand the bank's footprint in the Mid-Atlantic region. The bank's focus on revenue diversification through insurance brokerage services might give it an advantage over its peers. The bank is targeting higher loan and deposit growth. If achieved, it will surely be reflected in the bank's stock price.
Stay tuned to our earnings overviews to follow up on how the company and the industry progress this year.