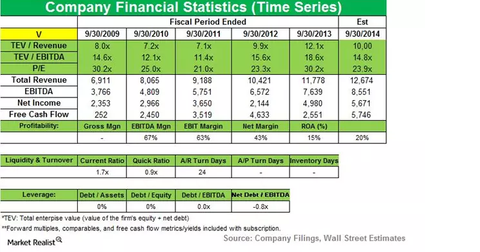 Tiger Global Management reduces position in Visa
By Adam Rogers

Updated
Tiger Global and Visa
Tiger Global Management added new positions in Alibaba Group Holdings (BABA) and Pilgrim's Pride (PPC). The fund increased its positions in Autohome (ATHM) and Avis Budget Group (CAR), and decreased its positions in Visa (V) and Hertz Global Holdings (HTZ). In addition, the fund sold off its position in Burger King (BKW) and Priceline Group (PCLN).
The hedge fund decreased its investments by over $15 million in Visa. The fund's current position in Visa accounts for 0.53% of the total portfolio, down from 0.80% in the third quarter. Visa has a 0.70% exposure to the SPDR S&P 500 ETF (SPY). The ETF tracks the overall performance of 500 publicly traded companies in the growth category.
Article continues below advertisement
Overview of the company
Visa is a global payments technology company that provides fast, secure, and reliable electronic payments. The company also provides a wide variety of payment solutions and offers a growing suite of innovative digital, eCommerce, and mobile products and services. Visa operates one of the world's most advanced processing networks, VisaNet, which facilitates authorization, clearing, and settlement of payment transactions worldwide.
Visa's operating revenues primarily come from payments volume on Visa-branded cards and payment products for purchased goods and services, as well as the number of transactions processed on its network. The company's revenues come from service revenues, data processing revenues, and international transaction revenues.
Visa's 10K filing said that its payments volume, total volume, and number of transactions make Visa the largest retail electronic payments network in the world.
Article continues below advertisement
Visa suspends service in Crimea
Visa (V) and MasterCard (MA) announced in December 2014 that they will be suspending products and services in Crimea.
A statement from Visa reports, "Due to the latest U.S. sanctions imposed against Crimea by Executive Order 13685 of December 19, 2014, Visa is now prohibited from offering Visa-branded products and services to Crimea. This means that we can no longer support card issuing and merchant/ATM acquiring services in Crimea."
Discover Financial sues Visa
In November 2014, Discover Financial sued Visa, the world's largest credit card company. According to court documents, Discover Financial alleged anticompetitive practices in Visa's debit card business. Discover Financial sought compensation for lost profit.
Discover Financial stated that "in order to maintain its monopoly, Visa has undertaken a series of illegal actions that undermine competition – harming rival debit networks, merchants, acquirers, card issuers, and consumers."
Visa announces 1Q15 results
In January 2015, Visa (V) announced financial results for 1Q15 and reported net income of $1.6 billion. This is an increase of 11% over the prior year, or $2.53 per share.
Net operating revenue for 1Q15 was $3.4 billion, an increase of 7% nominally or 9% on a constant dollar basis over the prior year. Solid growth in service revenues, data processing revenues, and international transaction revenues drove this increase.
The strengthening of the US dollar impacted net operating revenues by approximately 2% of negative growth during the quarter. Total operating expenses were $1.1 billion for the quarter, a 6% increase over the prior year.