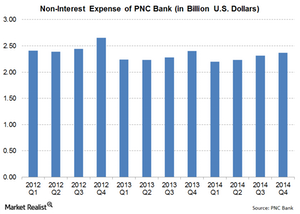 Non-interest expense management can improve at PNC Bank
By Saul Perez

Feb. 25 2015, Updated 5:06 p.m. ET
Non-interest expenses are operational expenses
Non-interest expense means expenses other than interest payments on deposits and bonds. These are generally operational expenses and are essential to the day-to-day operation of a bank. These expenses include salaries and bonuses to staff, marketing, and equipment expenses.
A bank needs to prudently manage its operational expenses at an optimal level to maximize its profits. Poorly managed non-interest expenses directly impact the bottom line.
Article continues below advertisement
PNC manages non-interest expenses prudently
PNC Bank (PNC) has done a good job at managing non-interest expenses in the last few years. Net interest expenses stood at nearly $9.5 billion at the end of 2014, which was $193 million lower than 2013. This happened largely due to curtailing salary expenses and other miscellaneous expenses.
Both net interest income and non-interest income have increased in last three years. Despite this, the non-interest expenses have largely remained stagnant. However, there is still room for improvement in this measure for PNC Bank.
Efficiency ratio is higher than a few peers
An indicator of controlling expenses is the bank's efficiency ratio. Efficiency ratio is measured by dividing non-interest expenses by total income (sum of net-interest income and non-interest income). A lower ratio is considered better. PNC Bank has an efficiency ratio of nearly 62% for 2014. Generally, better quality banks keep this ratio below 60%.
Wells Fargo (WFC) Capital One (COF), and US Bank (USB), all peers of PNC Bank, keep this ratio lower than 60%. A few other banks in a broad financial fund such as the Financial Select Sector SPDR ETF (XLF) also have an efficiency ratio below 60%.
Keep in mind that an accounting standard update impacted this ratio in 2014. However, other banks already follow updated accounting conventions. So, for a like-for-like comparison, PNC Bank does not fare as well as its peers, and it can improve on this front in the years ahead.