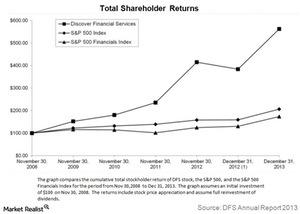 Investors should watch Discover's stock in the longer term
By Rekha Khandelwal, CFA

Nov. 20 2020, Updated 12:59 p.m. ET
Higher Returns
Discover Financial's (DFS) stock price rose from $14.70 at the end of 2009 to $65.50 at the end of 2014. This is an increase of 346%. Discover's total shareholder returns are higher than the broad market returns represented by the S&P 500 Index. The returns are also higher than the S&P 500 Financials Index and the Financial Select Sector SPDR ETF (XLF).
The graph above compares the total returns for Discover, the S&P 500 Index, and the S&P 500 Financials Index.
Article continues below advertisement
Future prospects
Discover showed rapid growth in a short timeframe. It emerged as a long-term player in the credit services industry. The company has been growing its loans and revenue consistently. It generated high returns on equity, or ROE, over the last few years. The global reach and acceptance of the Discover Network is growing.
The competition in the credit services industry remains intense. Discover faces challenges from big and established players like American Express (AXP), MasterCard (MA), and Visa (V). Together, Discover and American Express make up ~3.5% of XLF.
As Discover starts to focus on bigger clients, the competition will definitely become more intense. Newer regulations also created challenges for the company in the debit market. The new regulations made it difficult for the company to retain and grow volume.
Discover is taking steps to respond to the pressure in the debit market. It's looking at newer partnerships. It's also focused on expanding direct consumer banking. It became the third largest lender in private student loan segment.
It would be interesting to see how Discover pans out its growth strategy in future. Until now, Discover's performance suggests that it's in the game for the long run. It's definitely a stock that investors should watch for over the longer term.
For the latest industry updates, visit Market Realist's Financials page.